Plato
Biography of Plato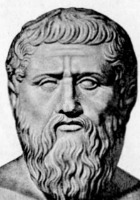 Plato (Plátōn, "broad"; 424/423 BC – 348/347 BC) was a philosopher in Classical Greece. He was also a mathematician, student of Socrates, writer of philosophical dialogues, and founder of the Academy in Athens, the first institution of higher learning in the Western world. Along with his mentor, Socrates, and his student, Aristotle, Plato helped to lay the foundations of Western philosophy and science.

Plato's sophistication as a writer is evident in his Socratic dialogues; thirty-six dialogues and thirteen letters have been ascribed to him. Plato's writings have been published in several fashions; this has led to several conventions regarding the naming and referencing of Plato's texts. Plato's dialogues have been used to teach a range of subjects, including philosophy, logic, ethics, rhetoric, and mathematics. Plato is one of the most important founding figures in Western philosophy.
This page is based on the copyrighted Wikipedia Plato; it is used under the Creative Commons Attribution-ShareAlike 3.0 Unported License. You may redistribute it, verbatim or modified, providing that you comply with the terms of the CC-BY-SA.
Love Asleep
We reached the grove's deep shadow and there found
Cythera's son in sleep's sweet fetters bound;
Looking like ruddy apples on their tree;
No quiver and no bended bow had he;
These were suspended on a leafy spray.
Himself in cups of roses cradled lay,
Smiling in sleep; while from their flight in air,
The brown bees to his soft lips made repair,
To ply their waxen task and leave their honey there.