It's Human Heart, Forget Me Not!
It was spring time: a middle class village lass!
Appeared in my Olive-orchard
In her round trip time.
And said: - 'we have guerrilla attack's at home'
For a Bard, like me it was a half doom.
Fair was her face, just like a mirror Glass,
I served her a kilogram Olives; ripe tide.
With little laugh she said: -
'I'm unread and unwed'
A riddle, like befall in my head,
with her talk and tread.

With glass in hand; she sit under the Olive,
In the meantime, Spring wind again blew up, with jazz band.
My ripe olives, were all over the ground spanned,
Her oblique gazes, led My eyes mislead--

She painted an Old, and threw down to me,
It was, nothing, but needle penned--'I adore you'
Me wonder! how it could be,
you knew not Me!
Then she ran off the Olive, nearer me, like a kangaroo.

And, said: - ' It's human heart so forget Me not,
By luck, I came over you hickking through,
The Eden vale, by sweety palm, so set seal on '
As I was picking the fruit, in wet season.

She left up, her silken green veil,
a young eagle,
Was eyrie on, eating nutbeans, scanning down-
Anibal-on velvet green, to his easel.
Crossing miles, she came to hack my heart!

Lately I spoke to her: - 'save your tear, Anibal! from cosmic evil,
With goodness, and some sublime art'
Why not! visit again by March with four people,
Then she smiled, while putting in, her gauzy-veil.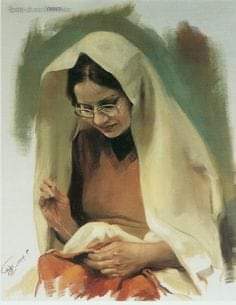 Thursday, January 28, 2021