Frog Poems - Poems For Frog
Poems about frog. You can read the best frog poems. Browse through all frog poems.
Limerick-The Frog - Poem by Loke Kok yee
This frog was partying and left rather late
In the darkness his home he could not locate
Spotted a bat flying in the air
His dilemma he made aware
My pleasure I'll fly you home to your mate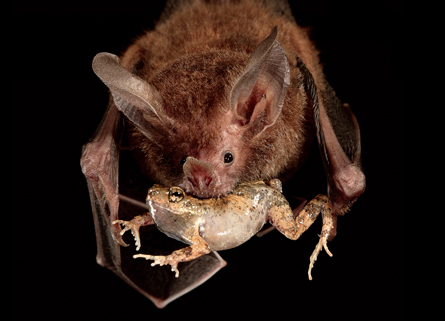 Comments about Limerick-The Frog by Loke Kok yee
Bri Edwards

(8/27/2016 7:57:00 PM)

should i be jealous of the frog's lucky lift home? ? ? i have my doubts.

wellllll, the bat said nothing about what he/she/the bat would do with
mr. and mrs. frog once they were reunited.

:) :) bri

a cute one. (Report) Reply

Mohammed Asim Nehal

(10/19/2015 12:55:00 PM)

Now it's a party time for Bat........Nicely thought limerick.....10++ (Report) Reply

Kelly Kurt

(10/19/2015 12:08:00 PM)

I don't think it was a 'free' ride.: -) (Report) Reply

Loke Kok Yee

(10/19/2015 12:25:00 PM)

You are a good poker player.
Read all 5 comments »
Poems About Frog
51.

Limerick-The Frog , Loke Kok yee

52.

The Frog And The Tarantula , Stephen Katona

53.

Toad Frog And Tadpole , Terence George Craddock (Spe ..

54.

Island Frog , Ima Ryma

55.

Frog Orgy In Forress , Sheena Blackhall

56.

The Frog And The Toad , Tango Tango

57.

Tree Frog , Laurence Overmire

58.

The Frog In The Well , Rajaram Ramachandran

59.

The Hungry Frog , Raj Arumugam

60.

(what,) Another Frog (Haiku?) , Ibnu Din Assingkiri

61.

A Frog In Love , Sonia Walker

62.

Meditating Frog , Satheesan Rangorath

63.

Limerick-The Snake And The Frog , Loke Kok yee

64.

The Frog Poem(Duh Duh Duhhhhhhhhh) , Maddy Jen

65.

A Frog , Dr. A.Celestine Raj Manohar ..

66.

A Clever Frog. , Gangadharan nair Pulingat..

67.

Frog Lost In Pea Soup , Bruce Larkin

68.

Haiku Frog Longjump Or High Jump Over Th.. , Jonathan ROBIN

69.

Frog Bog , sílvia oliveira

70.

Leap Frog! ! , Tia Maria

71.

Frog Prince , john mc cudden

72.

Sick Frog , Raj Arumugam

73.

The Gator That Ate It's Tree Frog. , Michael Gale

74.

The Croaking Toad And The Leopard Frog , Juan Olivarez

75.

Little Tree Frog , Theresa Ann Moore

76.

Inspired By Issa - Bathroom Frog , john tiong chunghoo

77.

Frog 1 And Frog 2 , Raj Arumugam

78.

Fly Frog , Otteri Selvakumar

79.

Water Frog , Aldo Kraas

80.

A Frog On Your Foot , Palas Kumar Ray

81.

Noisy -Noisy Frog , Aftab Alam

82.

Haiku - Frog , Don Haney

83.

The Frog , Monalno Kim

84.

The Frog On A Log , Andrew Robinson

85.

Origami Frog , Rajdeep Dutta

86.

The Princess And The Frog , Christos Kanellopoulos

87.

The Secret Life Of The Frog , Amy Sutton

88.

Haiku-Frog , DEEPAK KUMAR PATTANAYAK

89.

Lion And Frog , S.D. TIWARI

90.

Frog On Pug , sallam yassin

91.

Leaf Frog - Lincoln Park Zoo , Ima Ryma

92.

Frog In The Well , gajanan mishra

93.

Female Frog , gajanan mishra

94.

Frog Blog Or Toad Mode , Jonathan ROBIN

95.

Old Frog Haiku , Chenou Liu

96.

The Frog Princes , Robert Rorabeck

97.

The Oppressed Frog , RIC S. BASTASA

98.

Does A Frog Looks At Us , Manonton Dalan

99.

Frog Princes , Robert Rorabeck

100.

Accept The Fact That You Are Only A Frog.. , Bashyam Narayanan