Primo Levi
Biography of Primo Levi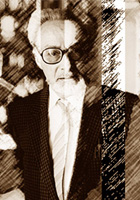 Primo Levi was born in Turin in Italy in 1919, to a family of non-religious Jews with Spanish roots. Pursuing an education in chemistry, he flouted Mussolini's racial laws of 1938, which prohibited Jews from higher education. Levi received his Bachelor of Science degree from the University of Turin in 1941. He eventually landed a position in a pharmaceutical laboratory where he worked until 1943, when the Germans invaded Northern Italy.

Leaving his job, the young chemist traded his glassware for a pistol, joining a band of partisans devoted to fighting Germans and Italian fascists. After being betrayed by one of their own number, Levi was handed over to the Germans and deported to the Nazi concentration camp at Auschwitz. He spent 10 months at Auschwitz, where he survived by working in a synthetic rubber factory in the Monowitz labor section of the camp. Falling ill to scarlet fever, he was left behind when the Germans evacuated the camp in anticipation of advancing Russian forces. Levi's harrowing experiences in Auschwitz are the source of an insuppressible sense of wonder present in his work, a wonder over every detail of the animate and inanimate world, coupled with a profound appreciation of simply being alive to observe the details.

In January 1945, Levi was liberated by the Red Guard. Making his way back to Milan, he married Lucia and resumed his career as an industrial chemist. In 1977, he retired from his position as manager of a chemical factory in Turin, devoting himself exclusively to writing until his controversial death on April 11, 1987, in the apartment building where he was born and eventually took up residence. Falling to his death from the railing of his third-floor stairwell, the question of whether Levi committed suicide or was the victim of a tragic accident is still open to debate.
This page is based on the copyrighted Wikipedia Primo Levi; it is used under the Creative Commons Attribution-ShareAlike 3.0 Unported License. You may redistribute it, verbatim or modified, providing that you comply with the terms of the CC-BY-SA.
Reveille
In the brutal nights we used to dream
Dense violent dreams,
Dreamed with soul and body:
To return; to eat; to tell the story.
Until the dawn command
Sounded brief, low
'Wstawac'
And the heart cracked in the breast.