Pritish Nandy
Biography of Pritish Nandy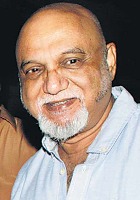 Pritish Nandy is a Indian poet, painter, journalist, politician, media and television personality, animal activist and film producer. He is Bengali by ethnicity. He was member of Rajya Sabha, the upper house of the Indian parliament representing Maharashtra based party Shiv Sena. He has published a number of poetry books in English and translated poems by other writers from Bengali and Urdu into English.

Early Life

Nandy was born on 15 January 1951, in Bhagalpur in the state of Bihar in eastern India to a Bengali Christian family. He is the son of Satish Chandra Nandy and Prafulla Nalini Nandy, and brother of Ashis Nandy and Manish Nandy. He was educated at La Martiniere College and, briefly at Presidency College in Kolkata. Nandy's mother was a teacher at La Martiniere Calcutta and subsequently became the school's first Indian vice principal.

Publishing Career

Nandy's first book of poems Of gods and olives was published in 1967. Three further volumes followed in the 1960s and a further 14 volumes were published in the 1970s. In July 1981 Nandy was nominated as a Poet Laureate by the World Academy of Arts and Culture at the Fifth World Congress of Poets in San Francisco.

In 1982 Nandy became a full-time journalist. He was publishing director of The Times of India from 1982 to 1991, and editor of The Illustrated Weekly of India from 1983 to 1991. He has also served as the editor of The Independent and Filmfare. He served concurrently as the publisher of The Illustrated Weekly of India, The Independent, Filmfare, Femina, Science Today, Dharmayug and Madhuri. He is currently a columnist with The Times of India and Dainik Bhaskar.

Nandy opened India's first cyber café in 1996.

Political Career

Nandy was elected to the Rajya Sabha, the upper house of the Indian parliament, in July 1998. He was a Member of Parliament for six years and was on a number of committees including the National Committee to Celebrate 50 years of Independence, the Parliamentary Committee for Defence, the Parliamentary Committee for Communications, the Parliamentary Committee for Foreign Affairs. He is on the Expert Committee for upgradation of the International Film Festival of India set up by the Ministry of Information and Broadcasting.

Film and Television

Nandy founded Pritish Nandy Communications in 1993 and remains its Non-Executive Chairman. The Company's first programme was a chat show entitled the The Pritish Nandy Show which aired on Doordarshan, a public broadcasting channel. The World This Week also aired on Doordarshan. This was followed by Fiscal Fitness, India's first weekly business show, on Zee TV, and The Pritish Nandy Business Show. Nandy has presented over 500 news and current affairs shows on Doordarshan, Zee TV and Sony TV. Nandy's film and television productions include:

Television Content

1. India 98 : The Choice

A live election debate show on Doordarshan. Moderated by Pritish Nandy and Nalini Singh. Directed by Pankuj Parashar. Won the RAPA Award.

2. The Pritish Nandy Show

A signature chat show on Doordarshan and Zee TV Network. Hosted by Pritish Nandy. Directed by Umesh Agarwal. The show was later repeated on Doordarshan Metro, Jain, Sun and Udaya TV. Nominated for the Screen Videocon Awards.

3. Maneka's Ark

An environment chat show on Star Plus and Doordarshan. Hosted by Maneka Gandhi. Directed by Amar Sharma and Rima Chhib.

4. Mr Gaayab

A comedy serial based on the invisible man on Zee TV Network. Starring Joy Sengupta. Directed by Kushan Nandy.

5. Face Off

An election chat show on Doordarshan. Hosted by Pritish Nandy and Javed Akhtar. Directed by Pankuj Parashar.

6. Ek Raja Ek Rani

A comedy serial on Doordarshan and Zee TV Network. Starring Shekhar Suman in a double role and Bhairavi Raichura. Directed by Kushan Nandy. Won the Aashirwad Award for Best Actor in 1999.

7. Raj Kahani

A costume drama on Doordarshan. Starring R Madhavan in a double role. Directed by Kushan Nandy.

8. Khwahish

A behind the scenes look at the big bad world of fashion on Sony Television. Starring Annie Thomas. Directed by Manu Gargi.

9. Yudh

A daily soap opera on Doordarshan, Sun, Udaya and Jain TV. Starring Mahavir Bhullar and Lalit Tiwari. Directed by Kushan Nandy.

10. Sanjog

A daily show based on the story of an ideal Indian family. This serial crossed 250 episodes on Doordarshan National. Starring Amar Talwar, Anjana Mumtaz, Aamir Ali Malik etc. Directed by Ajeet Kumar.

11. India-The Awakening

A daily show profiling achievers on Doordarshan. Hosted by Pritish Nandy. Directed by different directors.

12. Hungama Unlimited

A sitcom that lists the best of Hindi films and pop music. Also a countdown show to hit the number one position on Doordarshan Metro in terms of viewership ratings. Directed by different directors.

13. Heads & Tails

An animal rights show on Doordarshan. Hosted by Maneka Gandhi. Directed by Umesh Agarwal. Won the RAPA Award and was nominated for the Screen Videocon and Pinnacle Awards.

14. Entertainment Now

A daily entertainment news show on Doordarshan. Hosted by Sagarika Sonie. Directed by Subir Dhar and Amitabh Tripathi.

15. Chup Bas Lakshya

PNC's foray into regional Marathi television on Doordarshan Sahyadri. Starring Laxmikant Berde. Directed by Bhaskar Jadhav.

16. New Horizons

An alternative lifestyle show on Doordarshan and Zee TV Network. Hosted by Maneka Gandhi. Won a Screen Videocon Award.

17. Fiscal Fitness

A corporate and business show on Zee TV Network. Hosted by Pritish Nandy. Directed by Umesh Agarwal.

Films

Kuch Khatti Kuch Meethi /2001/ Producer
Bollywood Calling /2001/ Producer
The Mystic Masseur /2001/ Producer
Sur, The Melody of Life /2002/ Producer
Kaante /2002/ Producer
Jhankaar Beats /2003/ Producer
Mumbai Matinee /2003/ Producer
Chameli /2004/ Producer
Popcorn Khao! Mast Ho Jao /2004/ Producer
Shabd /2005/ Producer
Hazaaron Khwaishein Aisi /2005/ Producer
Ek Khiladi Ek Haseena /2005/ Producer
Ankahee /2006/ Producer
Pyaar Ke Side Effects /2006/ Producer
Bow Barracks Forever /2007/ Producer
Just Married /2007/ Producer
Ugly Aur Pagli /2008/ Producer
Meerabai Not Out /2008/ Producer
Raat Gayi Baat Gayi? /2009/ Producer
Click /2010/ Producer

Awards

National Science Talent Scholar 1964
American Field Service Scholar, 1964
E. M. Forster Literary Award, 1976
Padma Shri, 1977
Homi Bhabha Fellow, 1982
Shrikant Verma Award for Journalism, 1988
Outstanding Citizen Award, 1986 and 1992
Vijaya Ratna Award, 1989
Shiromani Vikas Award, 1990
Priyadarshini Award, 1990
Freedom of Information Award, 1990
RAPA Hamid Sayani Trophy 2003 for contribution to Indian media and entertainment
United Nations Heritage Award 2006
Ramnath Goenka Award 2006 for Excellence in Cinema
Karmaveer Puraskaar 2008

Pritish Nandy's Works:

Books of Poems

Of Gods & Olives (Calcutta/ Mexico City, 1967) 32pp, Writers' Workshop Publication
On Either Side of Arrogance (Calcutta, 1968) 32pp, a Writers' Workshop Redbird Publication
I Hand You In Turn My Nebbuk Wreath (Calcutta, 1968) 16pp, distributed by Writers' Workshop Publication
From the Outer Bank of the Brahmaputra (New York, 1969) 38pp, New Rivers Press
Masks to be Interpreted in Terms of Messages (Calcutta, 1971) 48pp, a Writers' Workshop Publication
Madness is the Second Stroke (Calcutta, 1972) 56pp, Dialogue Publications
The Poetry of Pritish Nandy: Collected Poems (New Delhi, 1973)
Riding the Midnight River: Selected Poems (New Delhi/ London, 1974) 144pp, Arnold Heinemann Publishers
Dhritarashtra Downtown: Zero (Calcutta, 1974)
Lonesong Street (Calcutta, 1975) 32pp, Poets Press
In Secret Anarchy (Calcutta, 1976) 38pp, United Writers
The Nowhere Man (Calcutta, 1976) 32pp, Arnold Heinemann Publishers
A Stranger Called I (Calcutta, 1976), 48pp, Kavita in association with Arnold Heinemann Publishers
Tonight, This Savage Rite/ With Kamala Das (New Delhi, 1977) 55pp, Arnold Heinemann Publishers
Anywhere is Another Place (Calcutta, 1979) 48pp, Arnold Heinemann Publishers
Pritish Nandy 30 (Calcutta, 1980) 30pp, Kavita in association with Arnold Heinemann Publishers
The Rainbow Last Night (New Delhi, 1981) 48pp, Arnold Heinemann Publishers
Again (Mumbai, 2010) 104pp, Rupa Publications

Verse Play

Rites for a Plebeian Statue (Calcutta, 1970)

Short stories

Some Friends (Calcutta, 1979)

Translations

The Complete Poems of Samar Sen (Calcutta, 1970) 192pp, Writers' Workshop Publication
Subhas Mukhopadhyay: Poet of the People (Calcutta, 1970) 24pp, Dialogue Calcutta Publications
Poems from Bangladesh (Calcutta, 1971) Dialogue Publications
The Prose Poems of Lokenath Bhattacharya (Calcutta, 1971)
Bangladesh: Voice of a New Nation (Calcutta/ London/ New York, 1972)
Shesh Lekha: The Last Poems of Rabindranath Tagore (Calcutta, 1973) 15pp, Dialogue Publications
Modern Bengali Poetry (Chicago, 1974)
The Flaming Giraffe: Poems by Sunil Gangopadhyay (Calcutta, 1975)
Songs of Mirabai (New Delhi, 1975)
The Poetry of Kaifi Azmi (Calcutta, 1975) 32pp, Poets Press; New Delhi: Distributed by Arnold Heinemann
Krishna, Krishna: Poems by Kabir (New Delhi, 1976)
The Lord is my Shepherd (New Delhi, 1982)
Untamed Heart: Poems by Bhartrhari (New Delhi, 1994) Rupa Publications
Unchained Melody: Poems by Amaru (New Delhi, 1994) Rupa Publications
Careless Whispers: Sanskrit Love Poetry (New Delhi, 1994) Rupa Publications

Poetry Recordings

Lonesong Street, with Ananda Shankar (EMI, 1977)
Hazaaron Khwaishein Aisi, with Shantanu Moitra (Virgin, 2004)

Bengali Translation

Pritish Nandyr Kobita translated by Amarendra Chakravarti (Calcutta, 1975)
Pritish Nandyr Kobita translated by Shakti Chattopadhyay (Calcutta, 1978)

Anthologies Edited

Indian Poetry in English: 1947-1972 (Calcutta, 1972)
Indian Poetry in English Today (New Delhi, 1973)
Modern Indian Poetry (New Delhi/ London, 1974)
Modern Indian Love Poetry (New Delhi, 1974)
Modern Indian Love Stories (New Delhi, 1974)
Strangertime (New Delhi, 1976)
This page is based on the copyrighted Wikipedia Pritish Nandy; it is used under the Creative Commons Attribution-ShareAlike 3.0 Unported License. You may redistribute it, verbatim or modified, providing that you comply with the terms of the CC-BY-SA.
The Nowhere Man
1
Come, let us pretend this is a ritual. This hand
in your hair, your tongue seeking mine: this
cataclysmic despair. Let us pretend tonight that
you are mine. Forever. For when daybreak returns, we
shall realise once more that forever means an
empty room, a tired night swirling into nowhere,
when I shore up to your tattered skyline.