Queen Taz
Queen Taz
(July 23,1989 / Miami, FL)
Biography of Queen Taz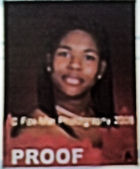 First, Off i would like to take the time to say hello to every inspiring poet on here. Allow me to introduce my self, i am a well rounded multi-talented young lady...i enjoy writing poetry as well reading it. Moreover i enjoy meeting down to earth people that i can relate to...i have been a member for some time now and i must say i came across so fine poets.Just a little FYI my favorite poets are Maya Angelou & Langston Hughes. Those two poets has inspired me to be the writer that i am...overall the type of poetry i write are the kind that people can relate to or i'm usually telling my perspective on problems that people come to me with...i like to consider my poetry as a comfort and inspiring uplift to those seeking an outlet.Before i go i would like to thank those for stopping by to read my poems the love is over whelming. If anyone has anything that they might want to ask, in which i didnt touch bases on feel free to write me.enjoy your day here are words of wisdom...'unanswered question leads to mystery and always remember your present maybe my history so let me enlighten thee.'

Queen Taz's Works:

I have at least two books in progress...i will inform everyone when its done.
Who Am I?
Who am i?
I'm the one who takes slack from no one,
the one who corrects you when you need corrections.

Who am i?
I am the diamond you find in the rough,
The one who is built ford tough.

Who am i?