Quentin Tarantino
Biography of Quentin Tarantino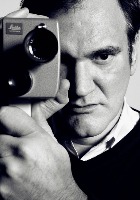 Quentin Jerome Tarantino (born March 27, 1963) is an American film director, screenwriter, producer, and actor. He has received many industry awards, including an Academy Award, a Golden Globe Award, a BAFTA and the Palme d'Or and has been nominated for an Emmy and Grammy. Filmmaker and historian Peter Bogdanovich has called him "the single most influential director of his generation."

Born in Knoxville, Tennessee, Tarantino grew up an avid film fan. His career began in the late 1980s, when he wrote and directed My Best Friend's Birthday. Its screenplay would form the basis for True Romance. In the early 1990s, he began his career as an independent filmmaker with films employing nonlinear storylines, satirical subject matter and the aestheticization of violence that often results in the exhibition of neo-noir characteristics. His films include Reservoir Dogs (1992), Pulp Fiction (1994), Jackie Brown (1997), Kill Bill (2003, 2004), Death Proof (2007), Inglourious Basterds (2009), and Django Unchained (2012).

His movies are generally characterized by stylistic influences from grindhouse, French New Wave, kung fu, blaxploitation and spaghetti western films. Tarantino also frequently collaborates with his friend and fellow filmmaker Robert Rodriguez. Tarantino has been dubbed a "director DJ", comparing his stylistic use of mix-and-match genre and music infusion to the use of sampling a DJ exhibits, morphing a variety of old works to create a new one. Tarantino's work has earned him five Academy Award nominations, winning one. He has been nominated twice for Best Director (Pulp Fiction and Inglourious Basterds) and three times for Best Original Screenplay (Pulp Fiction, Inglourious Basterds and Django Unchained), earning one victory in the latter category for Pulp Fiction. He won the Golden Globe Award for Best Screenplay for Django Unchained in 2013.