Rachel Hill
Rachel Hill
(January 26)
Biography of Rachel Hill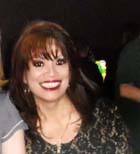 Hi, my name is RACHEL HILL and I come from England!
I love Poetry and I would like to share my composition to those people who have the same passion like me.

These collections of poems, articles and stories are based from my own experienced and some are from the
creation of my imagination.

These are all my own original manuscript.

I hope you will find comfort and pleasure reading my
composition and will able to capture the essence of
my work.

THANK YOU FOR READING MY POEMS! ! !
Vangie's Cuisine...
Food, food, food…Vangie's food…
You can find them in FACE BOOK
Mouthwatering cuisine of Filipinos food
Let's get together and have a look…..

Pretty Vangie is the cook
Using delicate hand to cook the food
Her expertise is out of this world
Nothing can beat her skills of food….