Radhika Karia
Radhika Karia
(India)
Biography of Radhika Karia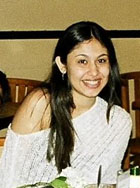 A small town girl trying to leave a mark in big world of hopes and dreams.
Could This Be?
You came in to my life as fast as the wind,
and left me unsecured.
You brought so much of love and joy,
and the pain of past that you cured.

Could this be love after the hurt,
And could I trust you with my heart?
Could I expect to find happiness,
And could I make u my life's part?