Radhika Karia
Radhika Karia
(India)
Biography of Radhika Karia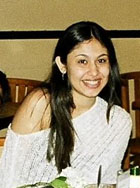 A small town girl trying to leave a mark in big world of hopes and dreams.
It Hurts
If Love is forever you told me one day…
If love will last and never go away…
If love is good, love is kind, love is true…
Then why does it seem that I still love you?

Why does it hurt now that you've gone away…
Why do I sit, missing you every day…
Why do I cry, at the sound of your name…
I thought it mattered to us but, for u, was it only a game?