Rae Christensen
Rae Christensen
(13 July 1971 / Bangkok)
Biography of Rae Christensen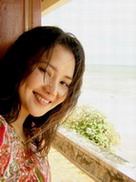 Sawasdee ka. My name is Parichut or Rae Christensen. I am 35 years old Thai lady married to a Norwegian, Vinny Christensen. We live in a tiny town named Sarpsborg in the south of Norway. I was grown up in Bangkok. Having my Bachelor degree (Education degree) from Chulalongkorn University Bangkok. I was working in some International Schools in BKK as an Instructional Assistant & others education fields for few years before moving to live in Norway with my husband. I love to read and of course to write. All of my poems are based on the true stories I experienced and to remind me about all the good and bad memories I have been through.
Love Of My Life
When I met you..
I had no idea...
How much my life...
Was about to be changed..

How could I have known?
A beautiful love like 'Ours' happens..
Once in a life time.
It's like a miracle..you're to me..