Rafey Habib
Biography of Rafey Habib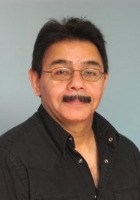 M. A. R. Habib (Rafey Habib) is an Indian-born Muslim poet and scholar of literature who has also written numerous books of literary criticism. He was born in India, grew up in England and now lives in America.

He is a scholar in the areas of literary criticism, theory and philosophy. He is a Professor of English and the author of seven books, including three histories of literary criticism, a study of T.S. Eliot's philosophical background, and two translations of Urdu poetry. His own volume of poetry, Shades of Islam: Poems for a New Century, appeared in September 2010. His latest book, Literary Criticism: From Plato to the Present: An Introduction, was published in 2011.

His interests also extend to Islamic philosophy and literature, as well as postcolonial studies. He believes that it is a matter of some urgency to foster an improved mutual understanding between the Islamic world and Western cultures. He has given numerous talks on various aspects of Islam, such as Islam and Democracy, and is currently working with colleagues at Rutgers University to establish a cultural diversity of courses, including Islamic literature in English translation.

Rafey Habib's Works:

(2010). Shades of Islam: Poems for a New Century (Kube).
(2007). Modern Literary Criticism and Theory: A History (Blackwell).
(2005). A History of Literary Criticism: From Plato to the Present (Blackwell). This has been praised in the Bryn Mawr Classical Review, which described it as "serious, ambitious, informative and intellectually challenging. Readers who are serious, ambitious, eager to learn material that is not always easily accessible, and open to intellectual challenge will be those who will profit most from it."
(2003). Editor and translator, An Anthology of Modern Urdu Poetry in Translation (Modern Language Association).
(1999). The Early T.S. Eliot and Western Philosophy (Cambridge University Press).
(1991). The Dissident Voice: Poems of N.M. Rashed: Translated from the Urdu (Oxford University Press).
This page is based on the copyrighted Wikipedia Rafey Habib; it is used under the Creative Commons Attribution-ShareAlike 3.0 Unported License. You may redistribute it, verbatim or modified, providing that you comply with the terms of the CC-BY-SA.
Old Flame
Beautiful, O woman not mine, you
Awake in me that old passion, the demon
I thought, with Plato, lay dormant, mimicking
Death; you cannot know how many years
Of memory you bring to live again in me; but
It is all vain; there is no purpose now; the god of love
Has fled, left us, abandoned in our selfishness;
There are no more lonely haunts, romantic spots
Where we – you and I – could share each other, no