Rahat Indori
Rahat Indori
(01 January 1950 / Indore, Madhya Pradesh / India)
Biography of Rahat Indori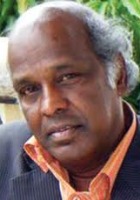 Rahat Indori (Urdu: ڈاکٹر راحت اندوری ) (Hindi: डॉ. राहत इन्दोरी ) is an eminent Urdu language poet and a bollywood lyricist, prior to this he was a pedagogist of Urdu literature at Indore University.

Early Life and Education

A child was born on January 1, 1950 in Indore to Rafatullah Qureshi, a cloth mill worker, and his wife Maqbool Un Nisa Begum. This was their fourth child and they named him Rahat. He did his schooling from Nutan School Indore from where he completed his Higher Secondary. He completed his graduation from Islamia Karimia College Indore[2] in 1973 and has passed his MA in Urdu literature from Barkatullah University[3] Bhopal (Madhya Pradesh) in 1975. Equally competent in prose and poetry, Rahat was awarded a PhD in Urdu literature from the Bhoj University of Madhya Pradesh in 1985 for his thesis titled Urdu Main Mushaira.

Career

He started teaching Urdu literature in IK College, Indore. According to his students he was the best lecturer in the college. In between he became very busy with Mushairas and started receiving invitations from all over India and abroad. He became very popular among the masses as well the classes with his ability, hard work and a characteristic style of delivering Ashaar. He made a place for himself in the hearts of people very early and within three to four years the fragrance of his poetry had made him a well-known figure in the world of Urdu literature. He was not only good at studies but was also the captain of the football and hockey team at school and college level. He recited his first sher in his college days when he was only 19. In those days his style of writing was surprising, advanced and had a freshness to it.

Personal Life

Rahat had two elder sisters Tehzib and Taqreeb, an elder brother Aquil and then a younger brother Adil. Rahat's early days were difficult as the financial condition of the family was not very good. He had to start working at the early age of 10 as a sign-painter. Painting was one of the areas of his interest and very soon, because of his talent, extraordinary designing skills, fantastic colour sense and imagination he became famous and also the busiest signboard painter of Indore. Clients were willing to wait for months to get their boards painted by Rahat. Many signboards he painted for shops can be seen even today in Indore.

He continues to design book covers even today and, in spite of his busy schedule, he manages to find some time for painting, as he hasn't given up his love of colours. He had started attending Nashist and small gatherings in Indore. In 1972, on the request of his mother. Her brother Mr. Hakim Hanfi, who was working with Municipal Corporation in, Dewas (Small Town Near Indore) had arranged to invite him for reciting his poems in an All India Mushaira held at Dewas. That was his first All India Mushaira. He became very popular among the masses as well the classes with his ability, hard work and a characteristic style of delivering Ashaar. He was married to Seema daughter of Kotwal Ahmed Hussain and Niyazan Bee of Dewas on 27 May 1976. 'Seema…jiske intezaar ne shayar bana diya…. ' (Extract from his book of verse Dhoop Dhoop). On 27 November 1978, his daughter Shibli was born, on 26 June 1980 his first Son Faisal and on 11 March 1982, his second son Satlaj was born.

Performance

He received a tremendous reception in Pakistan when he was only 26 years old and from then on he has been receiving invitations from different parts of the world. He has recited his poetry in 100+ cities of USA, Canada, West Germany, England, Pakistan, Qatar, Oman, Bahrain, Saudi Arabia, UAE, Bangladesh, Nepal, Bhutan etc. a number of times much to the appreciation of his millions of fans Awards - Some of the Awards amongst countless Honours - Honour, Embassy of India, Riyadh, Saudi Arabia - Honour, Jung News Paper Publications, Karachi, Pakistan - Mohd. Ali Taj Award, MP Urdu Academy, Bhopal - Maulana Mohd Ali Johar Award - Jamia old Boys Association, New Delhi - Adeeb International Award - Sahir Cultural Academy, Ludhiana - Haq Banarasi Award - Anjuman Nawa e Haq, Banaras - Sahitya Saraswat, Hindi Sahitya Sammelan, Prayag - Indira Gandhi Award, National Federation, Haldwani - Pradesh Ratna, Hindi Sahitya Parishad, Bhopal - National Integration Award, Indian Cultural Society, New Delhi - UP Hindi Urdu Sahitya Award, Govt. of Uttar Pradesh, Lukhnow - Rajiv Gandhi Literary Award, Hum sab Ek Hain, Bhopal - Award of Excellence in Urdu Poetry, Social Educational & Welfare Association (SEWA), Mumbai - Sadbhaawna Award, Bazm E Gango Jaman, Ujjain - Aafaq Haider Award, Shamim Memon Memorial Foundation, Varanasi - Faani o Shakil Award, Dr. Urmilesh Jan Chetna Samiti, Badaun - Nishwar Wahidi Award, National Book Fare Trust, Kanpur - Netaji Subhash Alankaran, Subhash Manch, Indore - Dr. Zakir Hussain Award, Delhi Govt., New Delhi - Nishan E Aijaz, Dr. Shakil Welfare Educational Society, Bareilly - Kaifi Aazmi Award, Bhartiya Rashtriya Ekta Parishad, Varanasi - Urdu Award, Jhansi - Mirza Ghalib Award, Jhansi.
This page is based on the copyrighted Wikipedia Rahat Indori; it is used under the Creative Commons Attribution-ShareAlike 3.0 Unported License. You may redistribute it, verbatim or modified, providing that you comply with the terms of the CC-BY-SA.