Rajkumar Patra
Rajkumar Patra
(05.12.1986 / West Bengal)
Biography of Rajkumar Patra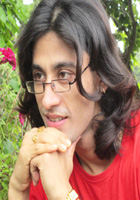 Raj kumar Write poems from november 2011. he started from he get the idea from his motivational photography 'flowers of love' august 2011.
he write his first story of a telefilm but not published then november 2011 he write oh computer oh computer (eng version) , passion (eng) , life (eng) etc. he write poetry in bengali language like - valobasa, ami dekechi tomai, etc
recently he continue writeing poetry, essay, story, and some attractive poems. professionally he known as an actor in bengali..

Rajkumar Patra's Works:

LIST OF RAJKUMAR'S ENGLISH POETRY
1, oh computer 23 december 2011
2, passion 23 december 2011
3, life 30 december 2011
4, burning heart 30 december 2011
5, your passionate eyes 25 june 2012
Burning Heart
My Heart Is Burning Just For You,
Please Try To Listen What He Says?
I, m Lost In Space And I Cry For You.

You Dont Understand My Love Is True,
I Love You More Then Enough,
But You Hurt Me More Then I Love You.

My Life Is Over Now, I, m Dying.