Rajpal Singh
Rajpal Singh
(2nd February 1964 / Kolkatta in West Bengal, India)
Biography of Rajpal Singh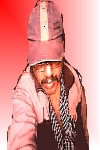 ME
On this orb of death,
In 1964, me Heaven made fall,
For, I could take my first breath,
And to be called 'Rajpal'
And to give joy to them all
Who hung around for nine months and not less
For this prisoner to get enthralled
In the cell of blood and flesh.
My custodians, guards and warders
To make this detenu flourished
With all traits of mind and soul
Sustained, supported and nourished.
Themselves suffered they scorch summery,
But me they kept under shadowy tree.
Me they schooled to develop faculties
And to earn for me a post degree.
Never thought I or dreamt ever
That could a verse be writ by me ever.
But it being known to me so far
That language and thought her two components be.
Former maketh her body and latter the immortal part:
Without the latter, it is like a lifeless corpse.
And only a month before nineteen ninety nine,
Decided I to make a good start
By writing for Him a few lines,
In His name and only in His praises,
But soon I found drenched in deluge of phrases.
My first verse bloomed from an invisible bud,
And I named it "In Search Of God".

Rajpal Singh's Works:

'MOKSHA-THE SALVATION'- is my first book published in 2011, by Mahabodhi Book Agency, Culcutta. It is a long Verse comprising 2076 verse lines. The book is available with the publisher.
Beauty And Sweet Poetry
Listen carefully O' distant friends of mine,
Never be personal when thou read my verse line.
'THOU ' though addresses thee is meant for all fair beings
Whose fairness inspires a muse to dance and sing.
My verses are sacred, and not a single inch fake,
And what I do is only for the art's sake.
O' What the great bards had done by thy beauty's bid,
The same I search from thee and the same I do need.
The nature hath moulded thee nicely and with too much care,