Raluca Rodica Ratiu
Raluca Rodica Ratiu
(03-09-1982 / Timisoara, Romania)
Biography of Raluca Rodica Ratiu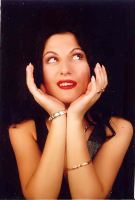 She is born in Timisoara, Romania.
She started writing poems at the age of 14, being an active member of the poets club in Timisoara, Romania.
At the age of 15, she joins a local political party where she attends courses of oratory and communication.
At the age of 18 she leaves politics and establishes a non profit organization, managed by her and a few former members of the political party. The organization is projected to help the citizens of Timisoara in social activities, and as a consequence they gave birth to a free distributed news paper called Civitas, cultural meetings to promote poetry and literature, sport events for the national minorities etc etc.
At the age of 19 she moves to Florence, Italy to continue her studies and in the meantime she gets captivated by the latin language, and starts learning it.
Nowadays she writes poems in italian, romanian and english, competes to national and international contests and as she likes to say, 'she tries to give the human kind a piece of herself without asking anything back'.
The Dream
Sensations is the word for the entire treasure,
And life is what allows to say
That feeling every single pleasure,
Makes people find their dream away.

And in that dream they put desire,
And they put hope for every scent,
And all the senses we admire
And never let their will to bend.