Ramesh Anand
Ramesh Anand
(07-12-1980 / Kumbakonam)
Biography of Ramesh Anand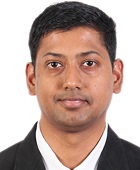 Ramesh Anand is the author of Newborn Smiles, Cyberwit.Net, his first Zen Poetry book forthcoming in 2012. His life experiences, as Haiku moments, have been published and forthcoming in World's premier print journals like Magnapoets, ACORN and Bottle Rockets Press, Anthologies such as The Temple Bell Stops: Loss And Grief, Prayer for Japan and Haiku Journal, OM Times Magazine, Lyrical Passion Poetry E-Zine, Asahi Shimbun, and e-journals like The Heron's Nest, Simply Haiku, Notes From The Gean, Shamrock, A Hundred Gourds, Multiverses, Haiku Reality, AHA Poetry, World Haiku Review, Muse India Mango moons, Sketchbook and many other Japanese short forms Journals.

His Haiku are translated in Tamil, Serbian and Japanese languages.

His Haiku interview has been published in Tobacco Road. His interviews of eminent Haijins (K. Ramesh & Dr. P.K.Padhy) have been published in Muse India and Boloji respectively.

His poems are honoured by print journal: Magnapoets and web journals like Muse India, Boloji, Voicesnet and Writersglobe. The Enchanting Verses International Poetry Journal has published his poems. His Haiku are honoured by World Haiku Review and Sketchbook.

He is the member of The Haiku Foundation and Muse India E-Journal. He participates in Haiku contests conducted by Haikuworld's Shiki Kukai Haiku contest, The Haiku Foundation's HaikuNow! Contest, Mainichi Daily News Haiku Contest and Vancouver Cherry Blossom Festival's Haiku Invitational Contest.

He is a Senior R&D Engineer based in Johor, Malaysia. He lives happily with his better half, Divya, and their best little half, Tanmayi. He graduated as an Electronics Engineer from SVCE, Chennai, India.

His online publications can be read at http: //www.ramesh-inflame.blogspot.com

Ramesh Anand's Works:

Newborn Smiles, Cyberwit.Net, forthcoming in 2012.
Blink Of An Eye
Blink of an eye,
Buddha –
Achieved a state of perfect enlightenment
But this success carried,
Years of persistent determination
To look beyond the failures.

Blink of an eye,
Sprinter –