ramesh rai
Biography of ramesh rai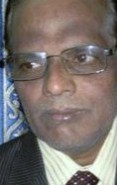 Poetry is my passion. Composing since teen age say 1970 and onward. Most of them are destroyed because during those days there was no such platform for publication. Some of them are still with me and also posted in this site. Since 2002 to 2011 I was totally off. In 2011 I posted some of my poems in PH. Now poetry has become the part of my life. It is my personal experience, ' a poet is born can not be made, is the inspiration of only God'. I had the promise I will meet you so i m here. I am grateful to all the poets of this site and my readers who have made me so. Thank you so much to my PH family and all readers. With regards to all.
MY FIRST POETRY BOOK ' THE HYMN OF MERCY' SHALL BE RELEASED SHORTLY. Regards once again.
@ COPY RIGHT OF ALL POEMS IN THIS PAGE RESERVED BY RAMESH RAI, HOWRAH INDIA

ramesh rai's Works:

I m preparing for publication of collection of my all poems.
It is my earnest request to give a view on my poem I SEARCHED YOU.
MY FIRST POETRY BOOK 'THE HYMN OF MERCY' SHALL BE RELEASED SHORTLY. IT SHALL BE COLLECTION OF MY POEMS ALL POSTED IN POEM HUNTER.COM CONTAINING 100 PAGES. I SHALL BE MUCH OBLIGED IF YOU KINDLY SORT OUT THE POEMS TO BE INCLUDED FOR THIS BOOK.YOUR SUGGESTION SHALL BE HIGHLY SOLICITED. REGARDS N THNX.
The Hymn Of Mercy -
For a mortal mind
What is a realisation
A spiritual unfoldment
Finite is never possible.

I woe upon the discreet,
The vagrance and awareness
The joys and greeds
All are misunderstanding