Randy Resh
Randy Resh
(April,1967 / Toronto, Canada)
Biography of Randy Resh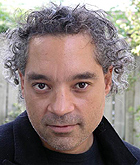 Randy Resh is a poet who works behind the camera for film and television as a Location Sound Mixer. The circus show veteran routinely helps garner his Directors distinction (including Cannes & multiple TIFF laurels) . He also lectures & mentors for Advanced Film Programs. He's had the honour of producing some of his country's foremost literary figures in media and served as Director for Pteros Gallery, Toronto (2000-05) . He is a past contributor for Futureale, Veux & Scythe Magazines. His work has appeared in numerous publications in Canada, the U.S., France, South Africa, Korea & Japan.

He lives in Toronto, Canada.

Randy Resh's Works:

Lantern Magazine (2014) . Veux Magaine 2012. Scythe Literary Journal (vols.1-5 2009,2011-12) , The Dinner Jacket Magazine vol.5 (Jan.2009) , The Toronto Quarterly (2009) , Futureale Magazine (Toronto, Paris, SA, Japan Oct.2008 - Jl.2009) , Skyline Magazine (International, Ny, NY summer 2007) , Bareback Magazine (Mar.2007) , Oysters and Chocolate (Jan.& Feb.2007, Aug.2008) , radiant danse uv being: A Poetic Portrait of bill bissett (Nightwood Editions,2006) , Variety Crossing Vol.7(Toronto, S. Korea, Kclpf-21,2005) , The White Wall Review (Ryerson Press,1999) , In Search of the Master Rose (solo- Sol in Ariez Publishings,1995) , The Gwendolyn MacEwen Benefit CD (2004) , numerous film, TV, radio & online spots (2000 - 2017) .
Tempest
It's the summer thunder
and I miss her wonder

As the wool is pulled to
bluest grey gaze

Abysmal and dismal
dervish dust sand

Far too-many days
too-many far days

I keep the windows open

Even echoes
should neither be alone nor
shut out



copyright R. Resh 2005