Ranjit Hoskote
Biography of Ranjit Hoskote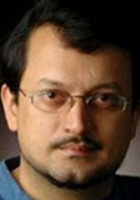 Ranjit Hoskote is a contemporary Indian poet, art critic, cultural theorist and independent curator.

Early Life and Education

Ranjit Hoskote was born in Mumbai, India. He educated at the Bombay Scottish School, Elphinstone College, where he read for a BA in Politics, and the University of Bombay, where he took an MA in English Literature and Aesthetics.

Career

As Poet

Hoskote belongs to the younger generation of Indian poets who began to publish their work during the early 1990s. His work has been published in numerous Indian and international journals, including Poetry Review (London), Wasafiri, Poetry Wales, Nthposition, The Iowa Review, Green Integer Review, Fulcrum (annual), Rattapallax, Lyric Poetry Review, West Coast Line, Kavya Bharati and Indian Literature. His poems have also appeared in German translation in Die Zeit, Akzente, the Neue Zuercher Zeitung, Wespennest and Art & Thought/ Fikrun-wa-Fann. He is the author of four collections of poetry, has translated the Marathi poet Vasant Abaji Dahake, co-translated the German novelist and essayist Ilija Trojanow, and edited an anthology of contemporary Indian verse. His poems have appeared in many major anthologies, including Language for a New Century (New York: W. W. Norton, 2008) and The Bloodaxe Book of Contemporary Indian Poets (Newcastle: Bloodaxe, 2008).

Hoskote has also translated the 14th-century Kashmiri mystic-poet Lal Ded, variously known as Lalleshwari, Lalla and Lal Arifa, for the Penguin Classics imprint, under the title I, Lalla: The Poems of Lal Ded. This publication marks the conclusion of a 20-year-long project of research and translation for the author.

The critic Bruce King writes of Hoskote's early work in his influential Modern Indian Poetry in English (revised edition: Oxford, 2001): "Hoskote has an historical sense, is influenced by the surreal, experiments with metrics and has a complex sense of the political... An art critic, he makes much use of landscapes, the sky and allusions to paintings. His main theme... is life as intricate, complicated, revolutionary movements in time... We live in a world of flux which requires violence for liberation, but history shows that violence itself turns into oppression and death." Reviewing Hoskote's first book of poems, Zones of Assault, in 1991 for India Today, the poet Agha Shahid Ali wrote: "Hoskote wants to discover language, as one would a new chemical in a laboratory experiment. This sense of linguistic play, usually missing from subcontinental poetry in English, is abundant in Hoskote's work." A decade later, reviewing Hoskote's third volume, The Sleepwalker's Archive, for The Hindu in 2001, the poet and critic Keki Daruwalla wrote: "It is the way he hangs on to a metaphor, and the subtlety with which he does it, that draws my admiration (not to mention envy)... Hoskote's poems bear the 'watermark of fable': behind each cluster of images, a story; behind each story, a parable. I haven't read a better poetry volume in years."

Commenting on Hoskote's poetry on Poetry International Web, the poet and editor Arundhathi Subramaniam observes: "His writing has revealed a consistent and exceptional brilliance in its treatment of image. Hoskote's metaphors are finely wrought, luminous and sensuous, combining an artisanal virtuosity with passion, turning each poem into a many-angled, multifaceted experience." Although he was closely associated with the modernist poet Nissim Ezekiel, who was his mentor, Hoskote does not share Ezekiel's poetics. Instead, his aesthetic choices align him more closely with Dom Moraes and Adil Jussawalla.

In 2004, the year in which Indian poetry in English lost three of its most important figures – Ezekiel, Moraes, and Arun Kolatkar – Hoskote wrote moving obituaries for these "masters of the guild", essays in which he wove personal reminiscence with the editor's historic mandate of context-making. Hoskote has also written, often, about the place of poetry in contemporary culture, the dynamics of the encounter between reader and poetic text, and the role that reading circles and literary platforms can play in the process of literary socialisation.

In 2006, the prestigious literary imprint Carl Hanser Verlag, Munich launched its new poetry series, Edition Lyrik Kabinett, with a German translation of Hoskote's poems, Die Ankunft der Vögel, rendered by the poet Jürgen Brocan. The other two volumes in the series, which was launched at the Frankfurter Buchmesse, were by the renowned American poet Charles Simic and the noted German poet Christoph Meckel.

As a literary organiser, Hoskote has been associated with the PEN All-India Centre, the Indian branch of International PEN, since 1986, and is currently its General Secretary, as well as Editor of its journal, Penumbra. He has also been associated with the Poetry Circle Bombay since 1986, and was its President from 1992 to 1997.

As Cultural Theorist

Hoskote was principal art critic for The Times of India, Bombay, from 1988 to 1999. Between 1993 and 1999, he was also a leader writer for The Times and wrote a weekly column of lively cultural commentary, "Ripple Effects", for it. In his role as religion and philosophy editor for The Times, he began a popular column on spirituality, sociology of religion, and philosophical commentary, "The Speaking Tree" (he named the column, which was launched in May 1996, after the benchmark 1971 study of Indian society and culture, The Speaking Tree, written by his friend, the scholar and artist Richard Lannoy). Hoskote was an art critic and cultural commentator, as well as a senior editor, with The Hindu, from 2000 to 2007, contributing to its periodical of thought and culture, Folio as well as to its editorial and op-ed pages, and its prestigious Sunday Magazine.

In his role as an art critic, Hoskote has authored a critical biography as well as a major retrospective study of the painter Jehangir Sabavala, and also monographs on the artists Tyeb Mehta, Sudhir Patwardhan, Baiju Parthan, Bharti Kher and Iranna GR. He has written major essays on other leading Indian artists, including, among others, Gieve Patel, Bhupen Khakhar, Akbar Padamsee, Mehlli Gobhai, Vivan Sundaram, Laxman Shreshtha, Atul Dodiya, Surendran Nair, Jitish Kallat, the Raqs Media Collective, Shilpa Gupta and Sudarshan Shetty. Hoskote has also written a monographic essay on the Berlin-based artists Dolores Zinny and Juan Maidagan.

As a cultural theorist, Hoskote has addressed the cultural and political dynamics of postcolonial societies that are going through a process of globalisation, emphasising the possibilities of a 'non-western contemporaneity', "intercultural communication" and "transformative listening". He has also returned often to the theme of the "nomad position" and to the polarity between "crisis and critique". In many of his writings and lectures, Hoskote examines the relationship between the aesthetic and the political, describing this as a tension between the politics of the expressive and the expressivity of the political. He has explored, in particular, the connections between popular visual art, mass mobilisations and the emergence of fluid and fluctuating identities within the evolving metropolitan cultures of the postcolonial world, and in what he has called the nascent "third field" of artistic production by subaltern producers in contemporary India, which is "neither metropolitan nor rural, neither (post)modernist nor traditional, neither derived from academic training nor inherited without change from tribal custom" and assimilates into itself resources from the global archive of cultural manifestations.

Hoskote has also speculated, in various essays, on the nature of a "futurative art" possessed of an intermedia orientation, and which combines critical resistance with expressive pleasure. At the same time, Hoskote has reflected on the place of beauty and the sublime in contemporary cultural practice, often speaking of "experiences parallel to beauty". In a major essay on the subject, he writes that "the modern art-work is often elegiac in nature: it mourns the loss of beauty through scission and absence; it carries within its very structure a lament for the loss of beauty."

In a series of essays, papers and articles published from the late 1990s onward, Hoskote has reflected on the theme of the asymmetry between a 'West' that enjoys economic, military and epistemological supremacy and an 'East' that is the subject of sanction, invasion and misrepresentation. In some of these writings, he dwells on the historic fate of the "House of Islam" as viewed from the West and from India, in an epoch "dominated by the NATO cosmology" hile in others, he retrieves historic occasions of successful cultural confluence, when disparate belief systems and ethnicities have come together into a fruitful and sophisticated hybridity. Hoskote has also attended to the phenomena of politicised religiosity and reinvented belief in the epoch of globalisation, as idioms of retrieval or revival, as expressions of alternative modernities or even counter-modernities.

More recently, Hoskote, especially in collaboration with Nancy Adajania, has focused on transcultural artistic practice, its institutional conditions, systems of production and creative outcomes, and the radical transformations that it brings about in the relationship between regional art histories and a fast-paced global art situation that is produced within the international system of biennials, collaborative projects, residencies and symposia.

As Curator

Hoskote curated his first exhibition, 'Hinged by Light', at the age of 25. In his role as an independent curator, Hoskote has conceived and organised twenty exhibitions of contemporary Indian as well as international art since 1994. These include a mid-career retrospective of the artist Atul Dodiya for the Japan Foundation, Tokyo (2001) and a lifetime retrospective of Jehangir Sabavala for India's National Gallery of Modern Art, Mumbai and New Delhi (2005). Hoskote's exhibitions cover a range of curatorial interests, including sculptural departures from the abstract (as in the 1994 show, Hinged by Light), site-specific public-art installations (as in the 2000 show, Making an Entrance), phantasmagoria (as in the 2006 show, Strangeness), and the curve of a distinctive Indo-Iberian regionality (as in the 2007 survey exhibition, Aparanta: The Confluence of Contemporary Art in Goa).

Hoskote was co-curator of the 7th Gwangju Biennale (2008) in South Korea, collaborating on this project with Okwui Enwezor and Hyunjin Kim.

In 2011, Hoskote was invited to act as curator of the first-ever professionally curated national pavilion of India at the Venice Biennale, organised by the Lalit Kala Akademi, India's National Academy of Art. Hoskote titled the pavilion "Everyone Agrees: It's About To Explode", and selected works by the artists Zarina Hashmi, Gigi Scaria, Praneet Soi and the Desire Machine Collective for it. The pavilion was installed in the central Artiglierie section of the Arsenale. Hoskote wrote that his pavilion was "intended to serve as a laboratory in which we will test out certain key propositions concerning the contemporary Indian art scene. Through it, we could view India as a conceptual entity that is not only territorially based, but is also extensive in a global space of the imagination." In making his selection of artists, the curator aimed to "represent a set of conceptually rigorous and aesthetically rich artistic practices that are staged in parallel to the art market. Furthermore, these have not already been valorized by the gallery system and the auction-house circuit.... The Indian manifestation will also focus on artistic positions that emphasize the cross-cultural nature of contemporary artistic production: some of the most significant art that is being created today draws on a diversity of locations, and different economies of image-making and varied cultural histories."

As Cultural Activist

Hoskote is also a vocal and articulate defender of cultural freedoms against the monopolistic claims of the State, religious pressure groups and censors, whether official or self-appointed. He has been actively involved in organizing protest campaigns in defence of victims of cultural intolerance.

Awards, Grants and Residencies

Hoskote has been a Visiting Writer and Fellow of the International Writing Program of the University of Iowa (1995) and was writer-in-residence at the Villa Waldberta, Munich (2003). He has also held a writing residency as part of the Goethe-Institut/ Polnisches Institut project, "The Promised City: Warsaw/ Berlin/ Mumbai" (2010). He was awarded the Sanskriti Award for Literature, 1996, and won First Prize in the British Council/Poetry Society All-India Poetry Competition, 1997. India's National Academy of Letters honoured him with the Sahitya Akademi Golden Jubilee Award in 2004. The S. H. Raza Foundation conferred its 2006 Raza Award for Literature on Hoskote.

oskote has held an Associate Fellowship with Sarai CSDS, a new-media initiative of the Centre for the Study of Developing Societies (CSDS), New Delhi, and is in the process of developing, jointly with Nancy Adajania, a new journal of critical inquiry in the visual arts.

Hoskote currently lives and works in Mumbai.

Ranjit Hoskote's Works:

Poetry

Zones of Assault. (Rupa & Co., New Delhi 1991)
The Cartographer's Apprentice. (Pundole Art Gallery, Mumbai 2000)
The Sleepwalker's Archive. (Single File, Mumbai 2001) REVIEW
Vanishing Acts: New and Selected Poems 1985-2005. REVIEW
Die Ankunft der Vögel, German translation by Jürgen Brocan.

Art Criticism

Pilgrim, Exile, Sorcerer: The Painterly Evolution of Jehangir Sabavala. (Eminence Designs, Mumbai 1998)
Sudhir Patwardhan: The Complicit Observer. (Eminence Designs/ Sakshi Gallery, Mumbai 2004)
The Crucible of Painting: The Art of Jehangir Sabavala. (Eminence Designs/ National Gallery of Modern Art, Mumbai 2005)
Baiju Parthan: A User's Manual. (Afterimage, Mumbai 2006)
The Dancer on the Horse: Reflections on the Art of Iranna GR. (Lund Humphries/ Ashgate Publishing, London 2007)
Bharti Kher. (Jack Shainman Gallery, New York 2007)
The Crafting of Reality: Sudhir Patwardhan, Drawings. (The Guild Art Gallery, Mumbai 2008) I
Zinny & Maidagan: Das Abteil/ Compartment. (Museum für Moderne Kunst, Frankfurt/ Main & Verlag der Buchhandlung Walther König, Köln 2010)
The Dialogues Series. (co-authored with Nancy Adajania; Popular Prakashan/ Foundation B&G, Mumbai 2011; first five books in an 'unfolding programme of conversations with artists'):
Anju Dodiya.
Atul Dodiya.
Veer Munshi.
Manu Parekh.
Baiju Parthan. INTERVIEW
Praneet Soi. (essays by Charles Esche and Ranjit Hoskote; Distanz Verlag, Berlin 2011)

Artist Book

Pale Ancestors. (poems by Ranjit Hoskote and paintings by Atul Dodiya; Bodhi Art, Mumbai 2008)
Cultural History
Kampfabsage. (co-authored with Ilija Trojanow; Random House/ Karl Blessing Verlag, Munich 2007)

Aesthetics

Despair and Modernity: Reflections from Modern Indian Painting. (co-authored with Harsha V. Dehejia and Prem Shankar Jha; Motilal Banarsidass, New Delhi 2000)

As Editor

Reasons for Belonging: Fourteen Contemporary Indian Poets. (Viking, New Delhi 2002) REVIEW

As Translator

Vasant Abaji Dahake, A Terrorist of the Spirit. (Harper Collins Indus, New Delhi 1992)
Ilija Trojanow, Along the Ganga: To the Inner Shores of India. (Penguin Books India, New Delhi 2005)
Ilija Trojanow, Along the Ganges. (British edition: Haus Publishing, London 2005)
I, Lalla: The Poems of Lal Ded. (Penguin Classics, New Delhi 2011)
This page is based on the copyrighted Wikipedia Ranjit Hoskote; it is used under the Creative Commons Attribution-ShareAlike 3.0 Unported License. You may redistribute it, verbatim or modified, providing that you comply with the terms of the CC-BY-SA.
Nazm
Our lives are voices in two heads.
The rest is background music.

§

In this city of high walls, the scores of abandoned music
flutter in the streets and my torn-out Aztec heart
comes to rest, a blind girl's paperweight.