Rasheed Alqahas
Rasheed Alqahas
(jan 1.1942 / Amman -Jordan)
Biography of Rasheed Alqahas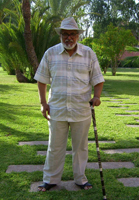 From the depth of Arabian Desert, from the place were the poems was born, were the shepherds sang, when they travelled with their sheep and camels from oasis to oasis under the shining sun and under the moon light that kisses the twinkle stars in the darkness nights,
My grand fathers came.
The poems spring out from their hearts to meet the others hearts and from the depth of the soles of those people to color the life, to give it the beauty that may never found in city where no one knows his neighbor.
My father even he was uneducated but he say poems, so my uncle and my aunt.
I am proud to say that I am from SAUDI ARABIA the country that rises up to be one of the best modern countries.
I have few collections of Arabian poems, i published one and the others will publish later.

Rasheed Alqahas's Works:

my first book Arabice poems was published it contains more than a hundred poems,
Tired
I know I am tired,
My heart became too weak,
The pain became too strong,
My tongue refused to speak.
……………………………
Tomorrow could be death,
Or after even ten years,
I am to death ready,
I have, I have no fears.