Rashid Iskandar
Rashid Iskandar
(06/07/1988 / Kuala Lumpur)
Biography of Rashid Iskandar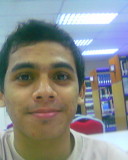 I'm Muhd Rashid bin Mohd Iskandar Manjit. LiVed in Cheras, Kuala Lumpur, Malaysia. Since small stayed with my parent. I have 1 sister and 2 brothers. Second in the family, born in 6 of July 1988.

Study in Methodist Boys School for Primary and Secondary. Then further my studied in UiTM Samarahan, Sarawak and UiTM Seri Iskandar, Perak for my Diploma. Currently still study UiTM Shah Alam, Selangor for my Degree. I'm taking Quantity Survey a.k.a Cost Engineer as my working profession.

About me? I'm ordinary person same like others, Love my family, pets and almost everyone that i called as my friends. I'm not a perfect person but i will try my best in life. I am just simple and happy go lucky person.

From my point of view, a poem is written not to show people that we are good in writing or how great we are in writing but it is to show people what is the meaning behind he poem. A good poem is a poem that have many kind of feeling in it, how we express our feeling in it.But how i write it, i will write it when ever i feel to write about somethings, the idea can came anytime at anywhere. I write for myself and happy to share it with everyone around the world.
Love
WHAT IS LOVE….
LOVE IS SOMETHING THAT COULD HURT YOU,
SOMETHING STUPID, SOMETHING SUPERB,
BUT LOVE, LOVE, LOVE, LOVE AND LOVE,
WHY DO WE NEED TO LOVE SOMEONE,
WHERE DOES THIS FEELING COME FROM,
OH….. LOVE……..
WHY, WHY, WHY, WHY,
THIS IS HAPPENING TO US,