Ravji Patel
Biography of Ravji Patel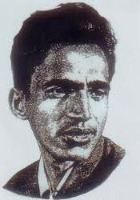 Ravji Patel was a modernist poet and novelist in Gujarati. He was born in Vallavpura village in Kheda District of Gujarat. His only collection was published posthumously titled 'Angat' ( 1971).

He could only study up to the second year of college and had to leave his studies owning to financial difficulties. He worked sporadically at various places like mills, libraries, newspapers and universities and died at the age of 29 due to tuberculosis after staying in Amirgadh and Anand on 8 August 1968 in Ahmedabad.

His immortal song, Mari Aankhe Kankuna Suraj Athamya has become a landmark in Gujarati literature. The song flags a great change in the trends and styles of writing in Gujarati literature, bringing it in to what is now known as the modern Gujarati literary trend.
This page is based on the copyrighted Wikipedia Ravji Patel; it is used under the Creative Commons Attribution-ShareAlike 3.0 Unported License. You may redistribute it, verbatim or modified, providing that you comply with the terms of the CC-BY-SA.