Ray William Roldan
Ray William Roldan
(07-11-58 / Summit, NJ.)
Biography of Ray William Roldan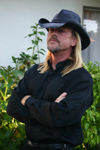 RAY WILLIAM ROLDAN
Singer-songwriter, Poet, Sculptor, blue collar artist Ray William Roldan. Was born in New Jersey and raised on the West Coast. He is known as someone with something to say. His soul does the talking through music and lyrics. The son of a hard working Cuban-Cherokee racer-mechanic and loving father; a descendent of show biz folk on his German-English mother's side. Subsequently, Ray developed an insightful and uniquely original view of life.

As a mechanic, construction worker, artist, veteran, poet and family man; he is testimony to all that is interesting and heartfelt. His music gives the listener a glimpse of his unique experience. Recalling a time when lyrics said something, Ray seeks this avenue of expression for his work. Through the genre, Alt-Country/Americana, Ray has found the niche where Folk-like vision blends well with Rock, Blues and Country. He writes with the purpose of moving people. Giving them something to think about, to laugh with or sing to. When Ray throws in a bit of Blues, it is to emphasize the importance of good hard living.

Ray's new release "Where We Come From" goes deeper into the country's backbone, portraying Ray's continued deep interest in Traditional Country and the Blues, though this album is more Alt-Country than even the last release. This album presents 13 new songs (twelve sung and written by Ray and one written by Mark Hayes) . Ray helped compose and arrange the music around the one track by Mark. A collaboration which opened a new avenue of expression. Always loving a challenge, Ray currently co-writes with other artists who seem to know that Ray's special perspective will create a song that's better than ever.

Ray William Roldan has an astute view of the world and his songs reflect the obvious complexities of living. His is an unusual talent for reducing the most profound human element into an easily remembered and well understood story. His true genius is the manner in which he gives his audience the tale. Tales of loss, of traveling, of love, of relationships and more. The compliments which pour out from the public pertaining to his use of words are profuse.

And there is a reason for this. Without a 'formal' education, Ray found a lost world of poetic expression which is both clever and full of intelligence.

Ray William Roldan
PO BOX 4167
Sunland, CA 91041
818-288-7484
www.raywilliamroldan.com
raywilliamroldan1@gmail.com
More information available by entering "Ray William Roldan" into Google, MSN or Yahoo.
A Rose Covered Cross
It ended with a rose covered cross
on the side of a lonesome road,
A family grieves a daughter lost
their hearts left quiet and cold!

They marked the spot
where her soul did leap,
Where the cord was cut
where death did creep!