Ray Young Bear
Biography of Ray Young Bear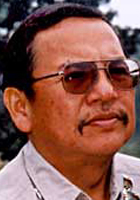 Ray Young Bear (born 1950 in Marshalltown, Iowa) (Meskwaki) is a poet and novelist. He was raised on the Meskwaki Tribal Settlement near Tama, IA. Young Bear's great-great grandfather, Maminwanike, purchased the land that the Meskwaki Settlement was built on. The settlement is located along the Iowa River. Young Bear's great-great grandfather was only a boy when he made the decision to move the tribe from Kansas back to Iowa where the tribe is originally from. After his great-great grandfather's decision, Meskwaki people were sent to negotiate the purchase of land that eventually became the Meskwaki Settlement. It is in this way that the Meskwaki Tribe that Young Bear is a part of is unique. The Meskwaki Tribe is one of very few tribes that bought their land instead of having their land allotted to them by the government. He writes about contemporary Native Americans in English and in Meskwaki. The theme of his poems and other works are American Indians' search for identity. His poems express the painful awareness of identity loss.
Young Bear first wrote poetry in Meskwaki and began to translate his work into English, publishing his first poem in 1968. His work was first published in 1968. His first audience that he considers while writing is his own tribal members. He always keeps his grandmother in mind while writing. He said, "My grandmother was always giving me advice on how I should watch what I say, because she would say that the single word itself is very, very powerful."

He writes about the dislocation of contemporary Native Americans who are pulled by two different cultures. He has written some prose fiction, but says that "all his writing is merely experiments with words" (Kratzert 1998). His novels, starting with Black Eagle Child (1992), describe his youth through the character of Edgar Bearchild. They combine first-person narrative, letters, religious imagery, and poetry. He often switches between English and the Meskwaki language to express himself more fully.
Our Bird Aegis
An immature black eagle walks assuredly
across a prairie meadow. He pauses in mid-step
with one talon over the wet snow to turn
around and see.

Imprinted in the tall grass behind him
are the shadows of his tracks,
claws instead of talons, the kind
that belong to a massive bear.