RazonAnny Justin
RazonAnny Justin
[Poet RazonAnny] (5th August,1985 / Uyo, Southern Atlantic Coast, Nigeria)
Biography of RazonAnny Justin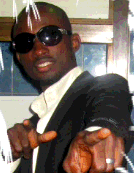 Razon-Anny Justin is a poet by persuasion, a Food Technologist and a Tutorial Chemist by Profession. He hails from the Oil inundated Southern Nigerian town of Uyo in Akwa Ibom State. He speaks Ibibio, Igbo and English.

#I_am_Poet_Razon; sought for, hand picked- like a Coral from the Shores of the Atlantic. Come with me, let's journey through the hearth; where, the works of my loom are illuminated by the Southern Cross, surrounded by walls of liberty and enmeshed in pods of self-realization. For I am the beauty of the South- in poetry, rhyme and wordplay; in lyrics and other literary forms.
Muted
I won't cry
Lest tears erode the glaze off my gleaming Face
How could I betray my pain
Let them see the Mammoth of my losses
I dare not tell them
Of my Big Chicken-hearted Brothers
Who could broker War on the Tables of Power
But they say nothing
So I ask, 'Who am I to say anything'?