Rebecca Martin
Rebecca Martin
(11-01-1971 / Flint, Michigan)
Biography of Rebecca Martin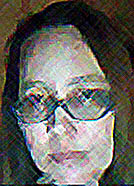 I was born in Michigan where both of my Parents were also born. At approximately a year old, my Parents moved myself and my older two siblings to Texas, where we were raised, along with a new sibling 7 years later.
As a child, I was constantly using my imagination on a daily basis! I had friends but, honestly for play I didn't always have a 'need' for another companion to keep me company during playtime as, I was able to keep myself occupied through my mind, which was always coming up with one thing or another to get the ol' creative juices stirring!
If I wasn't creating an imaginative scenery w/ my different types of toys, then I was writing short stories or coming up with ideas for stories which I would then store in the back of my mind (some still awaiting to be let out and put on paper!) .
Half-way through Jr. High, I realized how much I loved rhyming words and, through my newly discovered emotions from 'crushes' and such, I began to write Love Poetry...some I dreamed of turning into lyrics one day!
I was married in my early 20's and soon began a wonderful family! We now have 4 wonderful kids and, even though divorce unfortunately laid it's ugly hand on our family... we have since learned to become friends and live in a much happier world w/ our children!
I was able to get in a few years of College for Commercial Art due to my other interest...which was drawing! For a long time, I truly did believe my only calling was art but, after a LONG break from writing and more recently coming back to it...I have discovered a NEW Love for writing! I am now working on building up different subjects of Poetry and trying to teach myself more about Poetry. Soon, I hope to have enough Poetry to possibly enter into a poetry book of my own creation, illustrations included as well.
I also started my first book which is based on a bedtime story my younger two Children and I started taking turns telling one another on a nightly basis. Both my Children and I all came up with the idea of turning it into a Fantasy/Fiction! I have written a bit into this book but, not enough to begin showing it off! ! I honestly believe it's going to be a great contribution for readers of all kinds! ! !

In conclusion: Here I am...still, years down the road from where I first began...dreaming of a life for my Children, a life I was not able to have as a Child..my Parent's weren't able to have as Children...dreaming that through my own God-Given Talents, I will be able to break that chain and they will be able to finish College and make something HUGE out of their own dreams :) ! ! ! We ALL have them...why not use them? ? :) !
Romancing The…dreams?
Why do Dreams just fly away,
When ya just don't want them to?
Why do Feelings disappear,
Oh what did I ever do?
Oh Why...
Oh Why do I HURT so bad?
When I really loved U True?
Oh, DAMN!
Why did you HURT me so,