Rene Francois Armand Prudhomme
Biography of Rene Francois Armand Prudhomme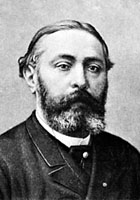 Rene Francois Armand Prudhomme, the son of a French shopkeeper. He also went by the name of René François Armand Sully-Prudhomme and Sully Prudhomme. An eye disease terminated his training at a polytechnic institute where he hoped to become an engineer. Instead, his studies concentrated on literature. His first job was as a clerk in a factory office, which he left in 1860 to study law. Sully Prudhomme was a member of the Conference La Bruyere, a distinguished student society, and the favourable reaction from his fellow members encouraged him to go on writing poetry.

His first volume, Stances et Poemes (Stanzas and Poems) (1865), was well reviewed by Sainte-Beuve and established his reputation. The volume was filled with fluent and melancholic verse inspired by an unhappy love affair. He was a leading member of the Parnassian movement, which sought to restore elegance, balance, and aesthetic standards to poetry, in reaction to the excesses of Romanticism.

Sully Prudhomme combined perfection and elegance with philosophic and scientific interests, which are revealed, for instance, in his translation of the first book of Lucretius' De Rerum Natura (1878-79). Some of his other poetic works are: Croquis Italiens (Italian Notebook) (1866-68); Solitudes (1869); Impressions de la guerre (Impressions of War) (1870); Les Destins (Destinies) (1872); La Révolte des fleurs (Revolt of the Flowers) (1872); La France (1874); Les Vaines Tendresses (Vain Endearments)(1875); La Justice (1878); and Le Bonheur(Happiness) (1888). Les Epaves (Flotsam) (1908), published posthumously, was a collection of miscellaneous poems. A collected edition of his writings in five volumes appeared in 1900-01. He also wrote essays and a book on Pascal, La Vraie Religion selon Pascal (Pascal on true Religion) (1905). He was awarded the first Nobel Prize for Literature in 1901.

Sully Prudhomme was a member of the French Academy from 1881 until his deah in 1907.
This page is based on the copyrighted Wikipedia Rene Francois Armand Prudhomme; it is used under the Creative Commons Attribution-ShareAlike 3.0 Unported License. You may redistribute it, verbatim or modified, providing that you comply with the terms of the CC-BY-SA.
On The Water
The sound of bank and water is all I hear,
The sad resignation of a weeping spring
Or a rock that hourly sheds a tear,
And the birch leaves' vague quivering.

I do not see the river bear the boat along
The flowering shore flits past, and I remain;
And in the watery depths that I skim,
The reflected blue sky flutters like a curtain.