Renee Marie
Renee Marie
(Danbury, CT USA)
Biography of Renee Marie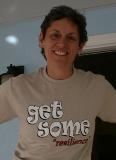 Reneé Marie: Currently in Sacramento, CA. M.S., CCC-SLP Speech-language Pathologist, Army Medical Service Corps Retired Reserve Officer (7/9/18) . Deployed to Kabul, Afghanistan, Medical Company Commander,2010. Trained in the Amherst Writers & Artists Institute (AWAI) method for facilitating writing workshops for underserved populations,2003, www.amherstwriters.com. Published in: Writing Alone and With Others, Pat Schneider (Companion DVD, Florentine Films) ,2003, Peregrine, Up Against the Wall; Mother, DEROS, the College Poetry Review, Pegasus, the Morgantown Poetry Society Anthology, Poems On the Road to Peace; A Collective Tribute to Dr. King; Vol 2, Yale Peabody Museum; Jan 20,2003, Tule Review (Sacramento Poetry Center) Journal and web; 2008,2017,2018, Susurrus (The Sacramento City College Literary Journal,2015, The American River Review,2017 and various other small chapbooks.

other on-line sites: www.daypoems.net; www.writingretreats.org/Journal

Renee Marie's Works:

I Dream of being selected by Perugia Press and completing my illustrated, literary Memoir.
Terry's Black Skirt
Terry, sweet Terry,
you darling dancing flirt;
you glide up and down
in that slit black skirt!

Oh Terry, sweet Terry,
your eyes scintillate.

You smile; never frown as you