renu kakkar
Biography of renu kakkar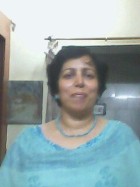 Renu Kakkar is a working mother. She took to writing poetry after a gap of 30 years and writes poems on spirituality, love and present day scenario, or anything that catches her interest.Her poems, in English and Hindi, are available at

http: //renukakkar2004gmailpoems.blogspot.com/

She is also a divine reiki master and has been helping/teaching others to help themselves combat illnesses with the help of reiki...

She has written a novel for children called, 'Granny's Return From Heaven as an Incredible Car.' The book has been published by Authour House U.K. and is available at a number of online stores...She has begun writing the next issue of the book...

Another book on the anvil is a book of her poems in Hindi and English to come out shortly on completion..

Thereafter a few books on experiences with reiki, numerology and palmistry.

renu kakkar's Works:

Granny's Return from Heaven as an Incredible Car
http: //bookstore.authorhouse.com/Products/SKU-000368916/Grannys-Return-From-Heaven-as-an-Incredible-Car.aspx
To Be A Cloud
I wish I could be up in the sky,
like the clouds that seem to fly.
To me they seem weightless in flight,
and to see them is indeed a delight.

Like them I would be afloat,
over the oceans with ships and boats.
I would travel over many lands,
without visas or passport in my hands.