renu kakkar
Biography of renu kakkar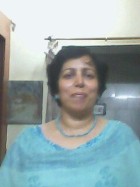 Renu Kakkar is a working mother. She took to writing poetry after a gap of 30 years and writes poems on spirituality, love and present day scenario, or anything that catches her interest.Her poems, in English and Hindi, are available at

http: //renukakkar2004gmailpoems.blogspot.com/

She is also a divine reiki master and has been helping/teaching others to help themselves combat illnesses with the help of reiki...

She has written a novel for children called, 'Granny's Return From Heaven as an Incredible Car.' The book has been published by Authour House U.K. and is available at a number of online stores...She has begun writing the next issue of the book...

Another book on the anvil is a book of her poems in Hindi and English to come out shortly on completion..

Thereafter a few books on experiences with reiki, numerology and palmistry.

renu kakkar's Works:

Granny's Return from Heaven as an Incredible Car
http: //bookstore.authorhouse.com/Products/SKU-000368916/Grannys-Return-From-Heaven-as-an-Incredible-Car.aspx
Character
As the sun rises every day spreading its warmth and light,
build your character every day with good thoughts, attitude, deeds and forsight.
Like the sun your warmth will spread to all creatures small and great,
people will come to you thinking you are God's messenger or saint.

It is said that god helps those who help themselves,
sometimes god wants you to help less fortunate selves.
For them you become a becon of light,
to solve their problems without a sigh or fright.