Richard Hovey
Biography of Richard Hovey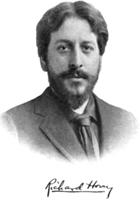 Richard Hovey (1864-1900) was an American poet. Graduating from Dartmouth College in 1885, he is known in part for penning the school Alma Mater, Men of Dartmouth.
At The End Of The Day
There is no escape by the river,
There is no flight left by the fen;
We are compassed about by the shiver
Of the night of their marching men.
Give a cheer!
For our hearts shall not give way.
Here's to a dark to-morrow,
And here's to a brave to-day!