Richard Howardson
Richard Howardson
(India)
Biography of Richard Howardson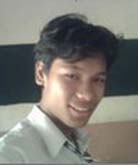 Richard Howardson was born in Jammu, India.

From childhood, Richie was popular for his charismatic and notorious nature. A passionate person who is very good in talking and creating problems!

In his own words, Richard Howardson is a person who believes in his own theories and follows his own principles. Very anxious, unstable and complex. The greatest quality of Richie then and now is that he wants to learn anything and everything which fascinates him. And of course, he is a good learner.

Richard Howardson's Works:

Love is All.
In The Dark
This is not what I wanted,
this is not what I asked for.
This is not what I desired,
certainly not what I dreamed of.

It's so different, so strange.

I don't know what's going on,
don't know why it is so.