Richard Lam
Richard Lam
[RL]
Biography of Richard Lam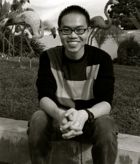 I inadvertenly became drawn to poetry and this discovery sparked my interest of trying to write some myself.

Every now and then, a novel idea would surface, and words would flow quickly and easily. At other times, an idea would come up, but the words wouldn't go anywhere for days. For me, it's the process of trying to translate fleeting thoughts or momentary inspiration into something concrete and coherent that is most fun and exciting.

The poems that I write, I write for myself, I write for people who might have similar experiences, and I write for people who enjoy reading poetry because of its ability to capture raw feelings and genuine emotions.

There's a lot that I have yet to learn, so I simply hope that you enjoy reading what I have as much as I enjoy making them.
The Fish
I am a fish put in a bowl.
They let me eat, they let me sleep,
They watch me grow.
But I am a fish trapped in a bowl.
My day is long, and time goes extremely slow.
I am the fish that doesn't know
What other worlds are beyond this tiny bowl.
I want to see the sun, the rain, the snow.
I want to jump over high and over low.