Richard Savage
Biography of Richard Savage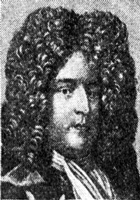 Richard Savage's main claim to fame was Samuel Johnson's biography which claimed that he was as illegitimate child descended from a noble line forced into poverty and misery by a mother whose sole aim and purpose in life was his destruction, Savage was a friend of Johnson's but this biography is disbelieved by most scholars and now has been discredited.

Richard Savage wrote two poems; The Bastard (1728) and The Wanderer (1729), and two comedies.

In 1727 he killed a man in a tavern brawl and was sentenced to death but was later pardoned. He died in poverty.
This page is based on the copyrighted Wikipedia Richard Savage; it is used under the Creative Commons Attribution-ShareAlike 3.0 Unported License. You may redistribute it, verbatim or modified, providing that you comply with the terms of the CC-BY-SA.
The Convocation: A Poem
When Vertue's Standard Ecclesiasticks bear,
Their sacred Robe the noblest Minds revere.
All to its Guidance do their Thoughts submit,
But such who triumph in licentious Wit;
And nauseous Mirth as high Desert esteem,
When rais'd by Scorn upon Religion's Theme
As Kings by Right Divine o'er Nations sway,
As the most worthy, their high Pow'rs obey;
Homage by all is to the Priesthood born,