Richard Wilbur
Biography of Richard Wilbur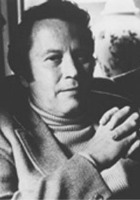 Richard Purdy Wilbur is an American poet and literary translator. He was appointed the second Poet Laureate Consultant in Poetry to the Library of Congress in 1987, and twice received the Pulitzer Prize for Poetry, in 1957 and again in 1989.

Biography

Early years

Wilbur was born in New York City and grew up in North Caldwell, New Jersey. He graduated from Montclair High School in 1938, having worked on the school newspaper as a student there. He graduated from Amherst College in 1942 and then served in the United States Army from 1943 to 1945 during World War II. After the Army and graduate school at Harvard University, Wilbur taught at Wesleyan University for two decades and at Smith College for another decade. At Wesleyan, he was instrumental in founding the award-winning poetry series of the University Press. He received two Pulitzer Prizes for Poetry and, as of 2011, teaches at Amherst College. He is also on the editorial board of the literary magazine The Common, based at Amherst College. He married Charlotte Hayes Ward in 1942 after his graduation from Amherst; she was a student at nearby Smith College.

Career

When only 8 years old, Wilbur published his first poem in John Martin's Magazine. His first book, The Beautiful Changes and Other Poems, appeared in 1947. Since then he has published several volumes of poetry, including New and Collected Poems (Faber, 1989). Wilbur is also a translator, specializing in the 17th century French comedies of Molière and the dramas of Jean Racine. His translation of Tartuffe has become the standard English version of the play, and has been presented on television twice (a 1978 production is available on DVD.)

Continuing the tradition of Robert Frost and W. H. Auden, Wilbur's poetry finds illumination in everyday experiences. Less well-known is Wilbur's foray into lyric writing. He provided lyrics to several songs in Leonard Bernstein's 1956 musical, Candide, including the famous "Glitter and Be Gay" and "Make Our Garden Grow." He has also produced several unpublished works such as "The Wing" and "To Beatrice".

His honors include the 1983 Drama Desk Special Award for his translation of The Misanthrope, the Pulitzer Prize for Poetry and the National Book Award, both in 1957, the Edna St Vincent Millay award, the Bollingen Prize, and the Chevalier, Ordre National des Palmes Académiques. He was elected a Fellow of the American Academy of Arts and Sciences in 1959. In 1987 Wilbur became the second poet, after Robert Penn Warren, to be named U.S. Poet Laureate after the position's title was changed from Poetry Consultant. In 1989 he won a second Pulitzer, this one for his New and Collected Poems. On October 14, 1994, he received the National Medal of Arts from President Clinton. In 2006, Wilbur won the Ruth Lilly Poetry Prize. In 2010 he won the National Translation Award for the translation of The Theatre of Illusion by Pierre Corneille.

Richard Wilbur's Works:

Plays

Translated from Molière

The Misanthrope (1955/1666)
Tartuffe (1963/1669)
The School for Wives (1971/1662)
The Learned Ladies (1978/1672)
School for Husbands (1992/1661)
The Imaginary Cuckold, or Sganarelle (1993/1660)
Amphitryon (1995/1668)
The Bungler (2000/1655)
Don Juan (2001/1665)
Lovers' Quarrels (2009/1656)

From Jean Racine

Andromache (1982/1667)
Phaedra (1986/1677)
The Suitors (2001/1668)

From Pierre Corneille

The Theatre of Illusion (2007/1636)
Le Cid (2009/1636)
The Liar (2009/1643)

Poetry Collections

The Beautiful Changes, and Other Poems (1947)
Ceremony, and Other Poems (1950)
A Bestiary (1955)
Things of This World (Harcourt, 1956) Pulitzer Prize for Poetry 1957 National Book Award 1957
Advice to a Prophet, and Other Poems (1961)
Walking to Sleep: New Poems and Translations (1969)
The Mind-Reader: New Poems (1976)
New and Collected Poems (Harcourt Brace Jovanovich, 1988) Pulitzer Prize for Poetry 1989
Mayflies: New Poems and Translations (2000)
Collected Poems, 1943–2004 (2004)
Anterooms (2010)

Prose Collections

Responses: Prose Pieces, 1953–1976 (Harcourt, 1976)
The Catbird's Song: Prose Pieces, 1963–1995 (Harcourt, 1997)
This page is based on the copyrighted Wikipedia Richard Wilbur; it is used under the Creative Commons Attribution-ShareAlike 3.0 Unported License. You may redistribute it, verbatim or modified, providing that you comply with the terms of the CC-BY-SA.
Advice To A Prophet
When you come, as you soon must, to the streets of our city,
Mad-eyed from stating the obvious,
Not proclaiming our fall but begging us
In God's name to have self-pity,

Spare us all word of the weapons, their force and range,
The long numbers that rocket the mind;
Our slow, unreckoning hearts will be left behind,
Unable to fear what is too strange.