Rishi Menon
Rishi Menon
(12-Feb-1997)
Biography of Rishi Menon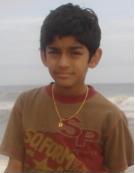 I started writing about 2 years ago when I read a few of my Dad's poems. Dad says he is proud of my very first poem, Nature. That sort of encouraged me and since then, I have written about 10 poems. I only write when I feel like it, if you know what I mean. I'm in the 9th standard now and am preparing to be a Doctor.

I am now in the 11th. I am no longer on course to be a Doctor. I have taken up Commerce and it is the first turning point to what will be my future career. I have also developed a great taste for drawing characters, writing stories and composing poetry. Art is in my blood. I have decided to take the two forward.

Rishi Menon's Works:

None, but I will - soon.
The Star Of Bethlehem
The star of Bethlehem

T'was in Bethlehem that Jesus was born
Raised in Jerusalem a million hearts he won

Preached Love, kindness and compassion
Traits that were missing then

Challenged the mighty Romans