Rita El Khoury
Rita El Khoury
(02/10/1985 / Beirut)
Biography of Rita El Khoury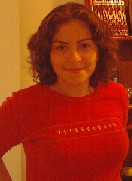 Hello, I'm Rita El Khoury, Lebanese now living in France. I went to Melkart school, USJ University where I got a degree in Pharmacy. I am currently pursuing a Masters in Pathological Macromolecules at Paris Diderot university in Paris.

I started writing french poetry when I was 11, wrote till I was 15 then took my 50 poems and threw them in the garbage. That was the only way I could get over that period. I kept writing in French and eventually started writing in English when I was 18. I also wrote some 4 or 5 arabic poems, literary and spoken, but I guess it isn't my strong language when it comes to poetry.

I'll list my favorite poems here, ie the ones I advise you to read:

(If you only have to read one poem, I advise
- Shakespeare's lost letter OR Mystical Fight 3, in english
- A Toi OR La survie in french)

- SI...
- L'ADIEU
- LA SURVIE
- A TOI
- HISTOIRE D'UN OISEAU
- J'ACCUSE LES LIBANAIS
- TU SAIS A QUOI TU RESSEMBLES
- LEGENDE DES CIMES
- LA MALMENEE
- AU SEUIL DE LA DEMENCE

- MYSTICAL FIGHT - The trilogy
- FORBIDDEN LOVE
- SHAKESPEARE'S LOST LETTER
- ARE WE STRANGERS NOW
- THAT'S HOW DIES A HEART THAT ACHES
- HOPE'S FUNERAL

And mostly I treasure the poems written to those who have touched my life:
- A DREAM TO REVIVE, A PAIN TO KILL (to Joyce)
- MY SISTER, MY FRIEND (To May)
- A L'INNOCENCE (A Amani, Maria & Patricia)
- REMERCIEMENTS AU COLLEGE (A mon collège)


I've also added a category of funny poems I've written, at least ones that I consider funny. They're under the name 'Funny -...'. I've also added some of my best productions during the 'A Poem A Day' project.
My Sister, My Friend
Today, I feel like I've spent all of my life wandering
Waiting for some kind of miracle, for someone or something,
I feel like being a unique child was written in my fate
Because meeting my sister wasn't meant to make me wait.
I know that now the waiting is over, no more emptiness,
Because I met the one who could take me from my loneliness.

I know you are not perfect, but who would care
Perfection is nothing but a heavy burden to bear,