Rm.Shanmugam Chettiar.
Rm.Shanmugam Chettiar.
(June 15,1942 / Aravayal, karaikudi, Tamil Nadu, South India)
Biography of Rm.Shanmugam Chettiar.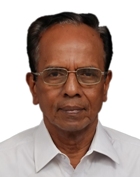 I was born in Aravayal, a village near Karaikudi, in Sivaganga District, Tamil Nadu, India, on 15th June 1942. My parents are Ramanathan aka Malikozhundu Chettiat and Muthulakshmi aka Kamalam Achi. My wife is Alagammai aka Tharmambal Achi. I have a son, Suresh and a daughter Sudha, both having their families. Now i reside in chennai. email rmshanmug@gmail.com and rmshanmug@yahoo.com
I am a graduate in Botany in Alagappa College, Karaikud and had served in the rubber board, a govnt. body, for 38 years. I have been writing poems since 1995 and i have in this site ten thousand two hundred poems as on March,2020, some being published in the periodicals of my department and in the annuals of the Chennai poets' circle, Chennai, where i serves as Secretary since 2010 till 2015. My poems cover romance, love, human relations, philosophy. Almost all the poems are short, sharp and telegraphic, conveying naked message.An atheist.

my email rmshanmug@gmail.com
my blog: rmshanmugam.blogspot.com rmshanmug.blogspot.com rmshanmugam.rmshanmugam.blogspot.com
shanmugampoem2000.blogspot.come
shanmugampoem2001.blogspot.com
Blogs are there year wise from 1999 to 2016

Rm.Shanmugam Chettiar.'s Works:

Published book: The role of soul and body English & Hindi from Authorpress. New Delhi, available from www.amazon.in
Be... and 33 other A kindle format E Books published in Amazon.com /rm shanmugam chettiar Self Publication, each priced at $0.99
40 books self published available for sale ar whatsapp +91 9080455850
37 ebooks from amazon.com and 4 ebooks free downlodable from smashwords.com
website www.rmshanmugamchettiar.com
New Poems
History Is Built.
History has no present, no future.
It has only the past which's not exact.
It will take the colour of the writers.
History is a story with some facts.

History is written by the winners.
History is disputed and rewritten.
More truths are buried than lies are exposed.
There is no other way to know the past.