Rm.Shanmugam Chettiar.
Rm.Shanmugam Chettiar.
(June 15,1942 / Aravayal, karaikudi, Tamil Nadu, South India)
Biography of Rm.Shanmugam Chettiar.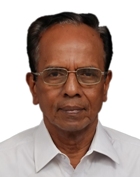 I was born in Aravayal, a village near Karaikudi, in Sivaganga District, Tamil Nadu, India, on 15th June 1942. My parents are Ramanathan aka Malikozhundu Chettiat and Muthulakshmi aka Kamalam Achi. My wife is Alagammai aka Tharmambal Achi. I have a son, Suresh and a daughter Sudha, both having their families. Now i reside in chennai. email rmshanmug@gmail.com and rmshanmug@yahoo.com
I am a graduate in Botany in Alagappa College, Karaikud and had served in the rubber board, a govnt. body, for 38 years. I have been writing poems since 1995 and i have in this site nine thousand three hundred poems as on May,2017, some being published in the periodicals of my department and in the annuals of the Chennai poets' circle, Chennai, where i serves as Secretary since 2010. My poems cover romance, love, human relations, philosophy. Almost all the poems are short, sharp and telegraphic, conveying naked message.An atheist.
my email rmshanmug@gmail.com
my blog: < rmshanmugam.blogspot.com> < rmshanmug.blogspot.com> < rmshanmugam.rmshanmugam.blogspot.com>
< shanmugampoem2000.blogspot.come>
< shanmugampoem2001.blogspot.com
Blogs are there year wise from 1999 to 2016

Rm.Shanmugam Chettiar.'s Works:

Be... and 9 other A kindle format E Books published in Amazon.com /rm shanmugam chettiar (Self Publication) , each priced at $0.99
37 ebooks from amazon.com and 4 ebooks free downlodable from smashwords.com
The Conept Of The Birth
What is birth? Why is it? Who causes it?
The birth is the fusion of matter and force
That came into being by accident
And since then evolves like planets revolve.

As the wind blows and the water flows
In accordance with the external force
The living things grow and reproduce
In accordance with the external force.