Robert Benchley
Biography of Robert Benchley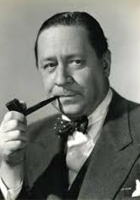 Robert Charles Benchley (September 15, 1889 – November 21, 1945) was an American humorist best known for his work as a newspaper columnist and film actor. From his beginnings at the Harvard Lampoon while attending Harvard University, through his many years writing essays and articles for Vanity Fair and The New Yorker, and his acclaimed short films, Benchley's style of humor brought him respect and success during his life, from New York City and his peers at the Algonquin Round Table to contemporaries in the burgeoning film industry.

Benchley is best remembered for his contributions to The New Yorker, where his essays, whether topical or absurdist, influenced many modern humorists. He also made a name for himself in Hollywood, when his short film How to Sleep was a popular success and won Best Short Subject at the 1935 Academy Awards, and his many memorable appearances in films such as Alfred Hitchcock's Foreign Correspondent and a dramatic turn in Nice Girl?. His legacy includes written work and numerous short film appearances.

Although Benchley was known for misleading and fictional autobiographical statements about himself (at one point asserting that he wrote A Tale of Two Cities before being buried at Westminster Abbey), he actually was the great-grandchild of the founder of Benchley, Texas, Henry Wetherby Benchley, who was jailed for his help with the Underground Railroad. Robert Benchley was born on September 15, 1889 in Worcester, Massachusetts, to Charles and Maria Benchley.

Robert's older brother, Edmund, was rushed to the Spanish-American War days after graduation from West Point (1898), and was a casualty almost immediately. The Benchley family was attending a public Fourth of July picnic when a bicycle messenger brought the notification telegram. In unthinking, stunned reaction, Maria Benchley cried out "Why couldn't it have been Robert?!", who was standing by her side at the age of nine. Mrs. Benchley apologized profusely and tried hard to atone for the remark. Edmund's death had considerable effects and unintended consequences upon Robert's life. The latter came from Lillian Duryea, the bereaved, wealthy heiress, fiancee of Edmund. One theory holds that Edmund's death in battle seeded pacifist leanings in his writings. The period, however, was full of literary abreaction to the Great War, and Benchley was aware of the published remorse of A.A. Milne.

Robert Benchley met Gertrude Darling in high school in Worcester. They became engaged during his senior year at Harvard, and they married in June 1914. Their first child, Nathaniel Benchley, was born a year later. A second son, Robert Benchley, Jr., was born in 1919. Nathaniel became a writer himself, and penned a biography of his father in 1955. He was a well-respected fiction and children's book author. Nathaniel had talented sons as well: Peter Benchley was best known for the book Jaws (which inspired the film of the same name), and Nat Benchley wrote and performed in an acclaimed one-man production based on Robert's life.