Robert Dana
Robert Dana
(1929 - 2010 / Massachusetts / United States)
Biography of Robert Dana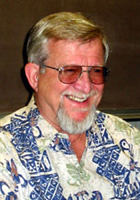 Robert Dana (June 2, 1929 – February 6, 2010) was an award-winning American poet, who taught writing and English literature at Cornell College and many other schools, revived The North American Review and served as its editor during the years 1964–1968, and was the poet laureate for the State of Iowa from 2004 to 2008.
Beach Attitudes
Blessed is the beach, survivor of tides.

And blessed the litter of crown conchs and pen shells, the dead blue crab
in all its electric raiment.

Blessed the nunneries of skimmers,
scuttering and rising, wheeling and falling and settling, ruffling
their red and black-and-white habits.