Robert Fuller Murray
Biography of Robert Fuller Murray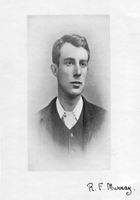 Robert Fuller Murray was born on December 26, 1863, in Roxbury, Massachusetts, to John and Emmeline Murray. In 1869, his parents separated, and John took his young son to Kelso, England, and then to York. Robert was educated at grammar schools first in Ilminster, and later in Crewkerne. Murray attended the University of St. Andrews, where he succeeded in the topic of English moreso than in classical Greek, and received a B.A. in 1881.
Due to a lack of other opportunities, Murray became a research assistant to Professor John M. D. Meiklejohn in 1886, and published poetry in several popular journals. He had a brief career in journalism in Edinburgh in mid 1889, and in 1890 returned to St. Andrews. By this time, Murray was dealing with consumption. In 1891, he paid a brief visit to Egypt, and saw publication of The Scarlet Gown. Not long after this, Murray's health continued to deteriorate, bring upon his death in 1894 in St. Andrews. His second volume of poems, Robert F. Murray: his Poems, was published later that year, through his friend Andrew Lang. In 1909, the St. Andrews Students Representative Council published a second edition of The Scarlet Gown.
This page is based on the copyrighted Wikipedia Robert Fuller Murray; it is used under the Creative Commons Attribution-ShareAlike 3.0 Unported License. You may redistribute it, verbatim or modified, providing that you comply with the terms of the CC-BY-SA.
A May-Day Madrigal
The sun shines fair on Tweedside, the river flowing bright,
Your heart is full of pleasure, your eyes are full of light,
Your cheeks are like the morning, your pearls are like the dew,
Or morning and her dew-drops are like your pearls and you.

Because you are a princess, a princess of the land,
You will not turn your lightsome eyes a moment where I stand,
A poor unnoticed poet, a-making of his rhymes;
But I have found a mistress, more fair a thousand times.