Robert Gray
Robert Gray
(23 February 1945 - / New South Wales / Australia)
Biography of Robert Gray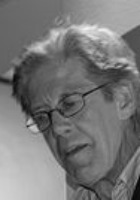 Robert William Geoffrey Gray is an Australian poet, freelance writer, and critic.

Gray grew up in Coffs Harbour and was educated in a country town on the north coast of New South Wales. He trained there as a journalist, and since then has worked in Sydney as an editor, advertising copywriter, reviewer and buyer for bookshops. His first book of poems, Creekwater Journal, was published in 1973.

Gray has been a writer-in-residence at Meiji University in Tokyo and at several universities throughout Australia including Geelong College in 1982. He has won the Adelaide Arts Festival and the New South Wales and Victorian Premiers' Awards for poetry. In 1990 he received the Patrick White Award. With Geoffrey Lehmann, he edited two anthologies, The Younger Australian Poets and Australian Poetry in the Twentieth Century, and he is the editor of Selected Poems by Shaw Neilson, and Drawn from Life, the journals of the painter John Olsen. After Images is his latest collection of poetry.

2008 sees the much anticipated publication of his memoir, The Land I Came Through Last.

Robert Gray's Works:

The Land I Came Through Last (Giramond, 2008)

Collections

Nameless Earth (Carcanet, 2006)
Afterimages (Duffy & Snellgrove, 2002)
New Selected Poems (Duffy & Snellgrove, 1998)
Lineations (Duffy & Snellgrove, 1996)
Certain Things (William Heinemann Australia, 1993)
Selected Poems (Angus & Robertson, 1990)
Piano (Angus & Robertson, 1988)
Selected Poems 1963-1983 (Angus & Robertson, 1985)
The Skylight (Angus & Robertson, 1984)
Grass Script (Angus & Robertson, 1979)
Creekwater Journal (University of Queensland Press, 1974)
Introspect, Retrospect : Poems (Lyre-Bird Writers, c.1970)

Biography

The King's Wife : Five Queen Consorts (Secker & Warburg, 1990)
This page is based on the copyrighted Wikipedia Robert Gray; it is used under the Creative Commons Attribution-ShareAlike 3.0 Unported License. You may redistribute it, verbatim or modified, providing that you comply with the terms of the CC-BY-SA.
Harbour Dusk
She and I came wandering there through an empty park,
and we laid our hands on a stone parapet's
fading life. Before us, across the oily, aubergine dark
of the harbour, we could make out yachts –

beneath an overcast sky, that was mauve underlit,
against a far shore of dark, crumbling bush.
Part of the city, to our left, was fruit shop bright.
After the summer day, a huge, moist hush.