Robert Hamerling
Biography of Robert Hamerling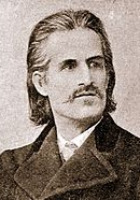 Robert Hamerling (March 24, 1830 – July 13, 1889) was an Austrian poet.

Biography
Hamerling was born into a poor family at Kirchberg am Walde in Lower Austria. He displayed an early genius for poetry; his youthful attempts at drama excited the interest and admiration of some influential persons. Owing to their assistance young Hamerling was able to attend the gymnasium in Vienna and afterwards the University of Vienna.In 1848 he joined the students' legion, which played a large part in the revolutions of the capital, and in 1849 shared in the defence of Vienna against the imperialist troops of Alfred I, Prince of Windisch-Grätz. After the collapse of the revolutionary movement he was obliged to hide for a couple of weeks to escape arrest. For the next few years he pursued his studies in natural science and philosophy, and in 1855 became master at the Gymnasium at Trieste. For many years he was ill, and in 1866 retired on a pension, which in acknowledgment of his literary works was increased by the government to a sum sufficient to enable him to live carefree until he died at his villa in Stiftingstal near Graz, Austria. A popular edition of Hamerlings works in four volumes was published by M. M. Rabenlechner (Hamburg, 1900).

Evaluations
The 1911 Encyclopædia Britannica characterizes Hamerling as one of the most remarkable poets of the modern Austrian school, describing his imagination as rich and his poems as full of life and colour. What it terms his most popular poem, Ahasver in Rom (1866), of which the emperor Nero is the central figure, is said to show at its best what is alleged to be the author's brilliant talent for description. Among his other works, 1911 Britannica mentions Venus im Exil (1858); Der König von Sion (1869), characterized as a generally recognized masterpiece; Die sieben Todsünden (1872) Blätter im Winde (1887); Homunculus (1888); Amor und Psyche (1882). The 1911 Britannica goes on to describe his novel, Aspasia (1876), as giving a finely-drawn description of the Periclean age, but like his tragedy Danton und Robespierre (1870), somewhat stilted, which it thought showed that Hamerling's genius, though rich in imagination, was ill-suited for the realistic presentation of character.

Robert Hamerling museum
in its place of birth Kirchberg at the forest gives it a Robert Hamerling museum, which is carried by the Hamerling association. The German national politician George knight of more beautiful one let establish its birth house 1891 down-clever and in its place the donation house. Today also the municipal office of Kirchberg at the forest is in the donation house beside the museum.

Robert Hamerling's Works:

Works
Venus in the exile, poems, 1858
senses and Minnen, a song book 1959
a swan song of the romance, poems, 1862
the seven death sins, Oratorium, 1863
Ahasverus in Rome, Epos, 1866
the king of Sion, Epos, 1869
Danton and Robespierre, tragedy, 1871
Teut, joke play, 1872
Aspasia, novel, 1876
Amor and psyche, Epos, 1881
Homunculus, Epos, 1888
stations of my Lebenspilgerschaft, autobiography, 1889
Robert Hamerling. All works, hrsg. v. Michael Maria Rabenlechner, 16 Bde., 1911

Literature
Adolf Altmann: Robert Hamerlings world view, an optimism. Historical-critical, literary-philosophical study. Salzburg: Mayr 1914.
Hans's Heinz Dum: Robert Hamerling, 1830-1889. Life and work. Intending speech to 150. Birthday of the poet. Munich: Leather Mueller 1980. (= series of publications of the local history museum Waidhofen/Thaya; 4)
Peter Klimm: Between Epigonentum and realism. Studies to the complete work Robert Hamerlings. Vienna: Federation of the Wiss. Total one. Austria 1974. (= theses of the University of Vienna; 115)
Thomas cracks: Robert Hamerling. Its life - its thinking to the spirit. Fate at the threshold. Thorn oh: Verl. at the Goetheanum 1989.
Fritz Lemmermayer: Memories of Rudolf Steiner, Franz Brentano, Anton Bruckner, Fercher of Steinwand, Robert Hamerling and other personalities Austrian spirit lives. 2. , erw. and typogr. again gest. Aufl. Basel: Perseus 1992.
Michael Maria Rabenlechner: Hamerling. Its life and its works. Hamburg: Publishing house and. Printering A. - G. 1896.
This page is based on the copyrighted Wikipedia Robert Hamerling; it is used under the Creative Commons Attribution-ShareAlike 3.0 Unported License. You may redistribute it, verbatim or modified, providing that you comply with the terms of the CC-BY-SA.
Personal Request
Say that I write bad verses,
Say that I steal the silverware,
Say I'm a rotten German
Because my diet says I can't eat Jews
And Slavs for breakfast;
Or that I betray our Austria
Because I sing the praise of Bismarck.
Say that I'm stricken with grief because
Praise for me is sadly lacking,