Robert Laurence Binyon
Biography of Robert Laurence Binyon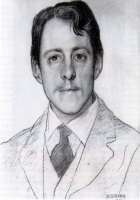 Robert Laurence Binyon (10 August 1869 at Lancaster – 10 March 1943 at Reading, Berkshire) was an English poet, dramatist, and art scholar. His most famous work, For the Fallen, is well known for being used in Remembrance Sunday services.

Moved by the opening of the Great War and the already high number of casualties of the British Expeditionary Force, in 1914 Laurence Binyon wrote his For the Fallen, with its Ode of Remembrance, as he was visiting the cliffs of northern Cornwall (where a plaque commemorates it nowadays.) The piece was published by The Times newspaper in September, when public feeling was affected by the recent Battle of Marne.

Today Binyon is most famous for For the Fallen, often recited at Remembrance Sunday services in the UK, and an integral part of Anzac Day services in Australia and New Zealand, and November 11 Remembrance Day services in Canada. The third and fourth verses of the poem (although often just the fourth)have so been claimed as a tribute to all casualties of war, regardless of nation.

They went with songs to the battle, they were young.

Straight of limb, true of eyes, steady and aglow.

They were staunch to the end against odds uncounted,

They fell with their faces to the foe.

They shall grow not old, as we that are left grow old:

Age shall not weary them, nor the years condemn.

At the going down of the sun and in the morning,

We will remember them.

In 1915, despite being too old to enlist in the First World War, Laurence Binyon volunteered at a British hospital for French soldiers, Hopital Temporaire d'Arc-en-Barrois, Haute-Marne, France, working briefly as a hospital orderly. He returned in the summer of 1916 and took care of soldiers taken in from the Verdun battlefield. He wrote about his experiences in For Dauntless France (1918) and his poems, "Fetching the Wounded" and "The Distant Guns", were inspired by his hospital service in Arc-en-Barrois.

Robert Laurence Binyon's Works:

Lyric Poems (1894)
Porphyrion and other Poems (1898)
Odes (1901)
Death of Adam and Other Poems (1904)
London Visions (1908)
England and Other Poems (1909)
"For The Fallen", The Times, September 21 1914
Winnowing Fan (1914)
The Anvil (1916)
The Cause (1917)
The New World: Poems (1918)
The Idols (1928)
Collected Poems Vol 1: London Visions, Narrative Poems, Translations. (1931)
Collected Poems Vol 2: Lyrical Poems. (1931)
The North Star and Other Poems (1941)
The Burning of the Leaves and Other Poems (1944)
The Madness of Merlin (1947
This page is based on the copyrighted Wikipedia Robert Laurence Binyon; it is used under the Creative Commons Attribution-ShareAlike 3.0 Unported License. You may redistribute it, verbatim or modified, providing that you comply with the terms of the CC-BY-SA.
Now That I Have Won
Now that I have won
Long despaired of peace,
And those fears are flown
That vext so my heart's ease;

Shall I wish my love
Had found a path more smooth,
With no thorns to prove
Its constancy and truth?