Robert Pinsky
Biography of Robert Pinsky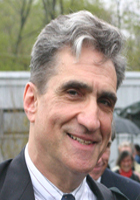 an American poet, essayist, literary critic, and translator. From 1997 to 2000, he served as Poet Laureate Consultant in Poetry to the Library of Congress. Pinsky is the author of nineteen books, most of which are collections of his own poetry. His published work also includes critically acclaimed translations, including a collection of poems by Czesław Miłosz and Dante Alighieri. He teaches at Boston University and is the poetry editor at Slate.

Robert Pinsky was born on October 20, 1940, in Long Branch, New Jersey, where he attended Long Branch High School. He received a B.A. from Rutgers University in New Brunswick, New Jersey, and earned both an M.A. and Ph.D. in Philosophy from Stanford University, where he was a Stegner Fellow in creative writing. He was a student of poet & critic Yvor Winters at Stanford.

Early on, Pinsky was inspired by the flow and tension of jazz and the excitement that it made him feel. He said it was an incredible experience that he has tried to reproduce in his poetry. The musicality of poetry was and is extremely important to his work.

He received a National Endowment for the Humanities Fellowship in 1974, and in 1997 he was named the United States Poet Laureate and Consultant in Poetry to the Library of Congress, being the first and so far only poet to be named to three terms. He now lives in Cambridge, Massachusetts, and teaches in the graduate writing program at Boston University.

As Poet Laureate, Pinsky founded the Favorite Poem Project, in which thousands of Americans of varying backgrounds, all ages, and from every state share their favorite poems. Pinsky believed that, contrary to stereotype, poetry has a strong presence in the American culture. The project sought to document that presence, giving voice to the American audience for poetry.

Pinsky wrote the libretto for Death and the Powers, a ground-breaking opera by composer Tod Machover. The opera received its world premiere in Monte Carlo in September 2010, and its U.S. premiere at Boston's Cutler Majestic Theater in March 2011.

Pinsky is also the author of the interactive fiction game Mindwheel (1984) developed by Synapse Software and released by Broderbund.

Pinsky guest-starred in a 2002 episode of the animated sitcom The Simpsons TV show, "Little Girl in the Big Ten", and appeared on The Colbert Report in April, 2007, as the judge of a "Meta-Free-Phor-All" between Stephen Colbert and Sean Penn.

Honors and Awards

Poet Laureate Consultant in Poetry to the Library of Congress (1997–2000)

National Endowment for the Humanities Fellowship (1974)

Stegner Fellowship in Creative Writing at Stanford University

Saxifrage Prize (1980) for An Explanation of America

William Carlos Williams Award of the Poetry Society of America

Nominated for the National Book Critics Circle Award for Criticism (1988) for Poetry and the World

Nominated for the Pulitzer Prize for Poetry (1996) for The Figured Wheel: New and Collected Poems, 1966-1996

Ambassador Book Award in Poetry of the English Speaking Union

Lenore Marshall Poetry Prize (1997) for The Figured Wheel: New and Collected Poems 1966-1996

Los Angeles Times Book Award (1994) for The Inferno of Dante

Book-of-the-Month Editor's Choice (1994) for The Inferno of Dante

Academy of American Poets' Translation Award (1994) for The Inferno of Dante

Robert Pinsky's Works:

Poetry

Sadness and Happiness (1975)
An Explanation of America (1981)
History of My Heart (1984)
Dying (1984)
The Want Bone (1990)
Shirt (1990)
The Figured Wheel: New and Collected Poems 1966-1996 (1996)
Jersey Rain (2000)
Samurai Song (2001)
Gulf Music: Poems (2007)
Impossible to tell(...)

Prose

Landor's Poetry (1968)
The Situation of Poetry (1977)
Poetry and the World Ecco Press,(1988)
The Sounds of Poetry (1998)
Democracy, Culture, and the Voice of Poetry (2002)
The Life of David (2006)
Thousands of Broadways: Dreams and Nightmares of the American Small Town (2009)

Libretto

Death and the Powers, an opera by Tod Machover (2010)

Interactive fiction

Mindwheel (1984)

As translator

The Separate Notebooks by Czesław Miłosz, with Renata Gorczynski and Robert Hass (1984)
The Inferno of Dante: A New Verse Translation (1995)

As Editor

Handbook of Heartbreak (1998)
Americans' Favorite Poems: The Favorite Poem Project Anthology, with Maggie Dietz (1999)
Poems to Read (2002)
An Invitation to Poetry (2004)
Essential Pleasures: A New Anthology of Poems to Read Aloud (2009)
This page is based on the copyrighted Wikipedia Robert Pinsky; it is used under the Creative Commons Attribution-ShareAlike 3.0 Unported License. You may redistribute it, verbatim or modified, providing that you comply with the terms of the CC-BY-SA.
At Pleasure Bay
In the willows along the river at Pleasure Bay
A catbird singing, never the same phrase twice.
Here under the pines a little off the road
In 1927 the Chief of Police
And Mrs. W. killed themselves together,
Sitting in a roadster. Ancient unshaken pilings
And underwater chunks of still-mortared brick
In shapes like bits of puzzle strew the bottom
Where the landing was for Price's Hotel and Theater.