Robert Stephen Hawker
Biography of Robert Stephen Hawker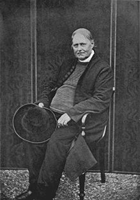 Robert Stephen Hawker (3 December 1803 – 15 August 1875), often known as Stephen Hawker, was an Anglican clergyman, poet, antiquarian of Cornwall, and reputed eccentric. He is best known as the writer of The Song of the Western Men, that includes the chorus line, And shall Trelawny die? There's 20,000 Cornish men shall know the reason why, which he published anonymously in 1825. His name became known after Charles Dickens acknowledged his authorship of "The Song of the Western Men" in the serial magazine Household Words.
King Arthur's Waes-Hael
WAES-HAEL for knight and dame!
O merry be their dole!
Drink-hael! in Jesu's name
We fill the tawny bowl;
But cover down the curving crest,
Mould of the Orient Lady's breast.

Waes-hael! yet lift no lid:
Drain ye the reeds for wine.