Robin Skelton
Biography of Robin Skelton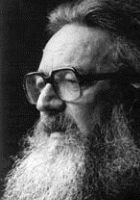 Robin Skelton (12 October 1925 – 22 August 1997) was a British-born academic, writer, poet, and anthologist.
Born in Easington, Yorkshire, Skelton was educated at the University of Leeds and Cambridge University. From 1944 to 1947, he served with the Royal Air Force in India. He later taught at Manchester University where he was a founder member of The Peterloo Group. In 1963, he emigrated to Canada, and began teaching at the University of Victoria in British Columbia.
Skelton was an authority on Irish literature. He is well known for his work as a literary editor; he was a founder and editor, with John Peter, of The Malahat Review, and a translator. Known as a practising Wiccan, Skelton also published a number of books on the subject of the occult and other neopagan religions.
Georges Zuk, a purported French surrealist poet, was a heteronym created by Skelton.
Westfield Lane
Westfield Lane, a green switchback
humping and scooping towards the wild
flat of the land north of the dyke
by Marsh Cottage; remembering that,
and, clearly, the saddle's jolt, the spin
of the blurred spokes, and the meshed ruts
tangled at gateways, remembering too
blue sky and boyhood, I begin
counting days back; an abacus