Roderic Quinn
Biography of Roderic Quinn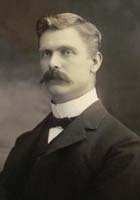 Roderic Quinn (brother of Patrick Edward Quinn) was born in Sydney. His Irish parents had migrated, in 1853, to Australia. He received his education in Sydney together with his life long friends C.J.Brennan and E.J.Brady. He studied law for a while, then worked as a country schoolteacher. When he returned to Sydney he took a position as a freelance journalist. He wrote short stories for the 'Bulletin', and made a modest living from his poetry from the 1890s to the mid 1920s. His work was extremely appreciated by his contemporaries. He was linked with Victor Daly as poets of the 'Celtic Twilight'.
This page is based on the copyrighted Wikipedia Roderic Quinn; it is used under the Creative Commons Attribution-ShareAlike 3.0 Unported License. You may redistribute it, verbatim or modified, providing that you comply with the terms of the CC-BY-SA.
The Hidden Tide
WITHIN the world a second world
That circles ceaselessly:
Stars in the sky and sister stars—
Turn in your eyes and see!

Tides of the sea that rise and fall,
Aheave from Pole to Pole—
And kindred swayings, veiled but felt,
That noise along the soul.