Roland Robinson
Biography of Roland Robinson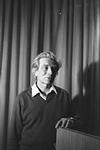 Roland Robinson,was born in Country Clare, Ireland in 1912. At the age of 9, in 1921 was brought to Australia. After only a brief education he worked in various jobs, mainly in the bush as a roustabout, boundary-rider, railway fettler, fencer, dam-builder, gardener and as a life long love - a ballet dancer.

Robinson's first published poetry appeared in Beyond the Grass-Tree Spears published in 1944. He served in the Australian Army. His love of the Australian landscape and everyday scenes were inspiration for his poetry. He was one of the most dedicated poets to the Jindyworobak Movement.

As a writer and poet Roland Robinson was dance critic for The Sydney Morning Herald in the 1950s and 1960s. In the 1940s he took classes with Helene Kirsova and appeared in a number of productions by the Kirsova Ballett.

Roland died in Sydney in 1992
This page is based on the copyrighted Wikipedia Roland Robinson; it is used under the Creative Commons Attribution-ShareAlike 3.0 Unported License. You may redistribute it, verbatim or modified, providing that you comply with the terms of the CC-BY-SA.
The Drovers
Over the plains of the whitening grass
and the stunted mulga the drovers pass,
and in the red dust cloud, each side
of the cattle, the native stockmen ride.

And day after day lays bare the same
endless plains as the way they came,
and ever the cloven ranges lie
at the end of the land and the opal sky.