Rolf Boldrewood
Biography of Rolf Boldrewood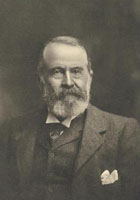 Rolf Boldrewood (T. A. Browne) was one of the best-known novelists of nineteenth-century Australia. Robbery Under Arms brought him a national and an international audience. It became a household name, and has remained in print since 1889.

Boldrewood was the first novelist to create specifically Australian characters. He was one of the chief spokesmen for 'old' (pre-goldrush) Australia; for pastoral Australia; and above all, for conservative Australia.

Browne had three careers: as a pioneer squatter; civil servant and writer and epitomised the pioneer colonist who experiences sudden reversals of fortune. Research, shows that he was not merely the sunny, hopeful and genial man portrayed in earlier studies, but rather an impulsive, extravagant, at times thoughtless optimist, whose Micawber-like temperament enabled him to escape being crushed by his ill-judged decisions.

Browne used his own life and experiences as raw material for his novels, but his career was in many ways far grimmer than most of his fiction.
This page is based on the copyrighted Wikipedia Rolf Boldrewood; it is used under the Creative Commons Attribution-ShareAlike 3.0 Unported License. You may redistribute it, verbatim or modified, providing that you comply with the terms of the CC-BY-SA.
Rolf Boldrewood Poems
The Bushman's Lullaby
Lift me down to the creek bank, Jack, It must be fresher outside; The long hot day is well nigh done; It's a chance if I see another one;
Perdita
She is beautiful yet, with her wondrous hair And eyes that are stormy with fitful light, The delicate hues of brow and cheek Are unmarred all, rose-clear and bright;
All poems of Rolf Boldrewood »
Share your comments »
Perdita
She is beautiful yet, with her wondrous hair
And eyes that are stormy with fitful light,
The delicate hues of brow and cheek
Are unmarred all, rose-clear and bright;
That matchless frame yet holds at bay
The crouching bloodhounds, Remorse, Decay.

There is no fear in her great dark eyes --
No hope, no love, no care,