Ronald Koertge
Biography of Ronald Koertge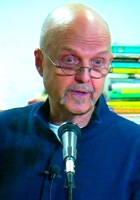 Ron Koertge was born in Olney, Illinois, April 22, 1940
Ronald Koertge is the author of poetry collections like Dairy Cows, Life on the Edge of the Continent: Selected Poems, and Making Love to Roget's Wife (University of Arkansas Press).
He has also written a novel, The Boogeyman, a lot of young adult novels, including Arizona Kid, Mariposa Blues, Tiger, Tiger, Burning Bright, and Confess-O-Rama.
Koertge recently retired from Pasadena City College after 37 years of teaching.
This page is based on the copyrighted Wikipedia Ronald Koertge; it is used under the Creative Commons Attribution-ShareAlike 3.0 Unported License. You may redistribute it, verbatim or modified, providing that you comply with the terms of the CC-BY-SA.
Sidekicks
They were never handsome and often came
with a hormone imbalance manifested by corpulence,
a yodel of a voice or ears big as kidneys.

But each was brave. More than once a sidekick
has thrown himself in front of our hero in order
to receive the bullet or blow meant for that
perfect face and body.