Ronald Koertge
Biography of Ronald Koertge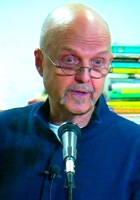 Ron Koertge was born in Olney, Illinois, April 22, 1940
Ronald Koertge is the author of poetry collections like Dairy Cows, Life on the Edge of the Continent: Selected Poems, and Making Love to Roget's Wife (University of Arkansas Press).
He has also written a novel, The Boogeyman, a lot of young adult novels, including Arizona Kid, Mariposa Blues, Tiger, Tiger, Burning Bright, and Confess-O-Rama.
Koertge recently retired from Pasadena City College after 37 years of teaching.
This page is based on the copyrighted Wikipedia Ronald Koertge; it is used under the Creative Commons Attribution-ShareAlike 3.0 Unported License. You may redistribute it, verbatim or modified, providing that you comply with the terms of the CC-BY-SA.
Fault
In the airport bar, I tell my mother not to worry.
No one ever tripped and fell into the San Andreas
Fault. But as she dabs at her dry eyes, I remember
those old movies where the earth does open.

There's always one blonde entomologist, four
deceitful explorers, and a pilot who's good-looking
but not smart enough to take off his leather jacket
in the jungle.