Ronald Koertge
Biography of Ronald Koertge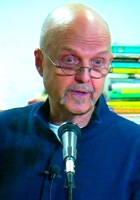 Ron Koertge was born in Olney, Illinois, April 22, 1940
Ronald Koertge is the author of poetry collections like Dairy Cows, Life on the Edge of the Continent: Selected Poems, and Making Love to Roget's Wife (University of Arkansas Press).
He has also written a novel, The Boogeyman, a lot of young adult novels, including Arizona Kid, Mariposa Blues, Tiger, Tiger, Burning Bright, and Confess-O-Rama.
Koertge recently retired from Pasadena City College after 37 years of teaching.
This page is based on the copyrighted Wikipedia Ronald Koertge; it is used under the Creative Commons Attribution-ShareAlike 3.0 Unported License. You may redistribute it, verbatim or modified, providing that you comply with the terms of the CC-BY-SA.
The Streetsweeper
goes by at 1:00 a.m. two nights of the week. I can
hear the feather whoosh of his machine and see
one red light.

I believe that the streetsweeper lives alone,
sleeping
through the cold days, waking clear-eyed and deft
as the sun goes down.